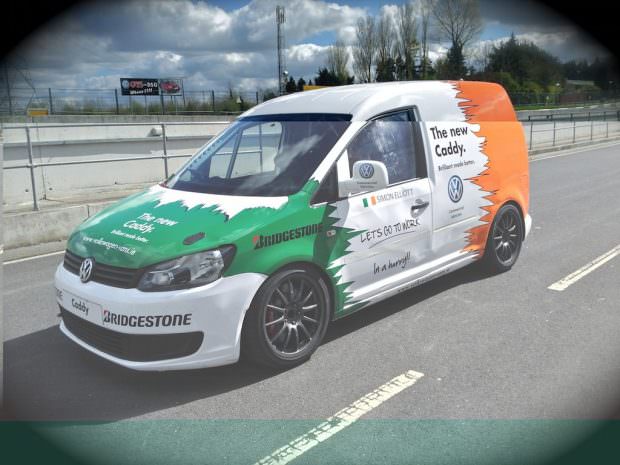 Normally when someone invites you to experience some vans at a race track, you'd be forgiven for thinking that they were having a laugh. Except today, one of the vans that I'm going to experience today actually needs a race track.
My hosts for the day here at Mondello Park, Volkswagen Commercial Vehicles Ireland, start me off with a little (and needed) education about their brand. Yes, they are actually a separate brand and they even have their own factory. And its not just boxy vans that they manufacture there either – today VW have brought along passenger variants of the Caddy van and their Caravelle (passenger version of their Transporter van). Towards the end of this presentation were we rudely interrupted by a very throaty growl from the pit garages below us.
Immediate investigation following the end of the presentation reveals something that doesn't what my ears are telling me. Before me in the pit garage is a Volkswagen Caddy van. Its sitting many inches lower than a regular one should. I'm pretty sure that the two fat exhausts exiting from the middle of the rear bumper aren't standard either.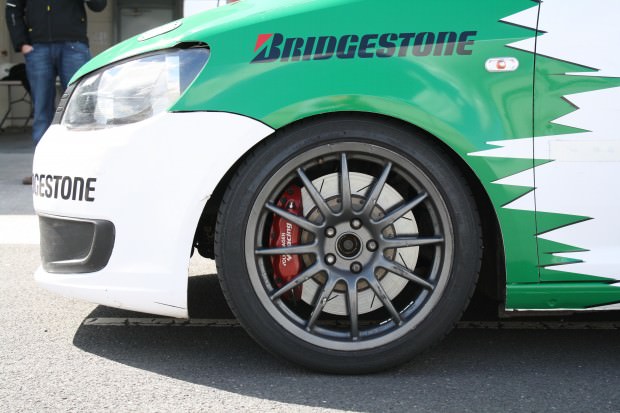 The man standing beside this creation wearing a Cheshire-cat-like grin is Simon Elliot, MD of Volkswagen Group Ireland. That's his name on the side of this unique racevan – sounds strange, doesn't? But thats exactly what this is.
Elliot and his team took a totally standard production Caddy van and stripped it out completely. Also removed was the original engine which was replaced with a 2.0 litre petrol four pot. A custom exhaust system was also fabricated to allow this little monster to breathe properly, while its suspension has been exchanged for what normally resides in a Golf VI.
Climbing inside this racer requires a bit of planning due to the pretty substantial custom made roll cage. Inside things are about as spartan as a racer can get – no sign of rolled up tabloids or empty McDonalds cartons in this van! Once I'm strapped into the five point harness, we trundle down pit-lane and out onto the track.
The noise inside is raucous, partly down to the cavernous interior shell making every rev reverberate around inside. Whats most impressive is not just how rapidly this machine accelerates but also how very composed it is through the corners thanks to its 3 way Nitron dampers. Even as all four Bridgstones squeal the Caddy remains on course, never once feeling like it may snap away from the realms of grip.
All too soon my few laps in this incredible machine are over and we trundle back down along pit-lane. Only when you're getting out do you remember that this is a van. It may be lowered and improved, but to be able to extract that kind of performance from a vehicle that was never designed to be raced makes it that bit more impressive.
Big thanks to Volkswagen Commercial Vehicles Ireland – you can follow them on Twitter @VWCVIreland