Kia Cee'd – International Press Launch & First drive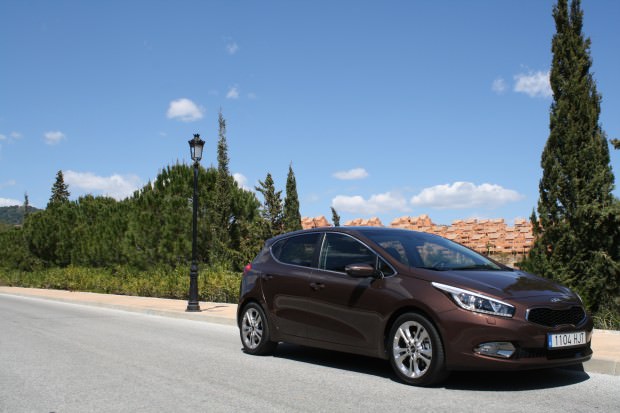 Kia are a brand that have a serious amount of momentum behind them right now. Globally they have gone from a brand that sells 1 million cars (in 2004) to one that now sells 2.5 million cars (2011). In the last twelve months they have launched 3 new models in key sectors. I went to Spain to drive their fourth – the new Cee'd. 
This is the second generation of Cee'd and even just going by the exterior its clear to see that this has potential to be a class leading design. The first thing you notice is the low and almost aggressive looking front grille. It reflects Kia's current design language very well and again demonstrates what a good job their design team are doing.
Physically the new Cee'd is 55mm longer, 10mm lower than the model it replaces yet crucially inside it offers increases in both headroom and legroom of 15mm & 9mm respectively. The boot space has also grown by 40 litres to 380 litres. Fold down the rear seats, which is a doddle to do by the way, and you then achieve 1318 litres of carry capacity – certainly enough for those trips to Ikea!
Sitting into the Cee'd and you can't help but notice two things – the quality and space inside. The dash is fairly driver orientated with three clear dials in front of the multi-function steering wheel. As an option, you can choose to have the centre dial replaced with a LCD version that still functions and looks like a normal speedometer but can also carry much more information such as navigation and on board computer. One other neat feature of this is the ability to switch the speedo from mph to kph – useful if you tend to travel to and from the UK.
My first test car is equipped with Kia's smart key entry meaning I simply have to have the key on my pocket in order to start the engine – a 1.6 diesel (126 bhp) in this case. Moving out onto the twisty and hilly roads around our Marbella base and its immediately obvious that this is a very capable diesel engine. When kept in the lower half of its rev range its pretty quiet and pulls well from anything over 1500 rpm. The six speed manual transmission has a quality feel about it too, easily cruising in sixth on the motorways.
A number of new features are also now available including a Lane Departure System (LDS) which gives you an audible alert should you start to drift out of your lane on a motorway and also a Steering Assist Control (SAC) which allows the driver to change the steering weight according to both driving style and conditions. One system which I was keen to test was the Smart Park Assist (SPA) – this uses an array of sensors to measure up your parking space for you and then handles all the steering input to help you glide into your space without the risk of damaging those bumpers. As well as an array of nice options, Kia do also give you quite a lot as standard including both AUX and USB interfaces to allow you to connect your iPod or iPhone -sounds small but you'd be amazed at how many brands still charge for this option.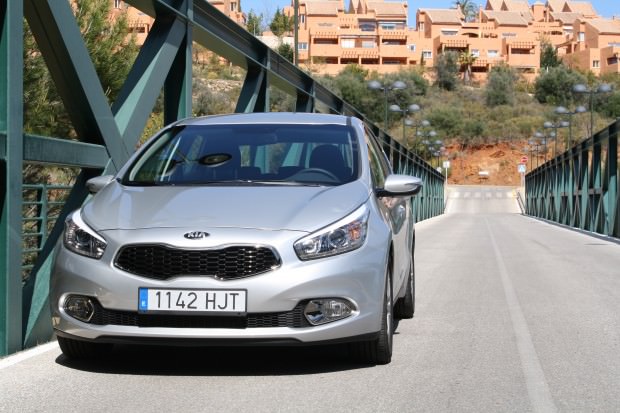 To my surprise, when I drove the 1.4 diesel (89 bhp) I must admit I found it to be almost every bit as capable as the slightly larger diesel engine. Perhaps on longer motorway trips and also when carrying three passengers you will notice the difference, but in my short 30km test drive in it, I found the 1.4 to nearly offer as much. Incidentally, both diesel engines will fall into Tax Band A, whilst the 1.4 petrol that will also come to Irish shores comes in under Tax Band B. To date 85% of Cee'd sold in Ireland have been diesel and there's no reason to believe that this trend will change.
The new Cee'd reaches Ireland in May with prices starting at €18,995 while the Sportwagon model will come in September. A 3 door variant is expected in January 2013 and when asked about the possibility of a sporty model Benny Oeyen, Kia's VP of Marketing & Product Planning, said that "Yes, it would be nice to add a little spice to our Kia soup".
Honestly, this doesn't feel in anyway like a cheap car and given the backup that Kia offer, namely their famous 7 year warranty, I think you would have to have a very good reason to pass one by. Its one very serious car and should have its more established competitors more than a little worried.
For a larger image gallery please visit & Like our Facebook Page here