Spinning The Rear: Moto GP Race Report – Qatar
Well, MotoGP 2012 has finally begun. After what has seemed like an eternity, the best riders in the world returned to racing at Losail Circuit, Qatar. Now a lot of you will have probably missed it, as it was held in the middle of a huge desert, in the middle of the night, meaning that no person in the middle of sanity would get to see it at a convenient time. Yet, with an atmosphere akin to a teenagers party where the booze hadn't arrived, our riders took to qualifying.
Top of the time sheets, remarkably, was Jorge Lorenzo, who pipped the seemingly unstoppable Casey Stoner to pole position. Joining them on the front row, and grinning like a 15 year old who just seen Playboy for the first time, was Cal Crutchlow. Not doing so well on the timesheets was our own sailing whiz (see separate story) Dani Pedrosa in 7th, and visibly un-nerved Valentino Rossi failing to break the top 10.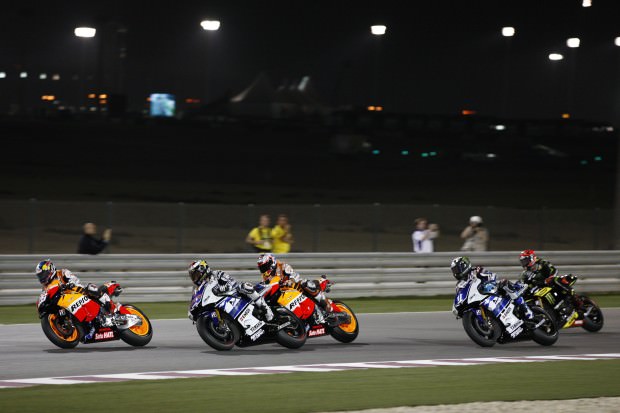 Amidst a sea of flood lights and hardly any fans, a few solitary red lights winked out and the race finally begun.
Streaking away from his berth, was Pedrosa, who in a nice jib-deploying manoeuvre caught the entire top 6 napping, joining the hard charging Lorenzo and Stoner at the front, followed closely by the battling Tech 3 duo of Andrea Dovisioso and the slow starting Crutchlow.
Pulling up the rear of this group was the group of Stefan Bradl, Nicky Hayden, Alvaro Bautista and Hector Barbera. All race long these chaps bickered over 6th like a bunch of 7 year olds with a new Transformer toy. With the occasional cheeky touch of machines, it was Hayden and the horrific Ducati who emerged at the top.
Ahead of Hayden, Crutchlow stalked Dovi. The henchmen-like black colour schemes coming close several times, causing team owner Herve Poncheral to require 15 valiums during the race. However, the 2 riders successfully stayed on board with Cal nabbing 4th and holding out to the line.
Up front, a thrilling battle was emerging, with all 3 riders swapping positions and Stoner settling in as the front runner early on. As he started to pull away, I started to pull the covers over my head in preparation for another Stoner domination. But it wasn't too be. As the race entered the final stages both Jorge and Dani began to close on Stoner. I was nearly wetting myself with anticipation of an actual last lap battle for the lead. Four laps out, the first salvo was fired, as Cap'n Dani sailed up the inside of Jorge for 2nd, only to be quickly re-taken. The shock jolted Jorge into action and he attacked Stoner with a beautiful set-up and overtake to grab the lead. Stoner was struggling and Dani pounced a lap later. He hoisted the main sail but was now too far behind to catch race winner Lorenzo. A wonderful finish to our first race of the season.
Behind all this madness some superbikes with nice carbon bits trundled around to "fill" the grid by occupying all the bottom positions. Top CRT was Colin Edwards who finished 1 minute behind Lorenzo. At least he didn't get lapped. There was also much excitement in the Yonny Hernandez camp as he continued 'catching' Randy 'Take Off All Your Clothes Immediately" DePuniet, finishing just 5.3 seconds behind. Oh, and Ben Spies was there too.
Winners and Losers
Jorge Lorenzo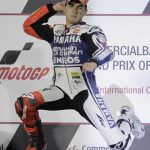 Unsurprisingly the biggest winner, was..eh, the winner! Jorge, who has played 2nd didgeridoo to Stoner last season and all through pre-season testing showed terrific determination to catch and pass Stoner, and showed amazing reserve by not doing any stupid groan inducing "celebrations" after the race. Turning out to be less and less of a 2 legged ego, Jorge is my secret hope for the title challenge.
Cal Crutchlow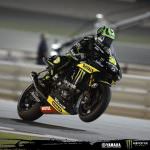 English, and therefore pre-disposed to showing immense promise before displaying utter hopelessness, Cal has bucked the trend. Strong all through pre-season, brilliant in qualifying with a lap time I don't even think he believed. Even with a bad start, Cal climbed back to 4th to beat his arguably more talented team mate. C-Squared is certainly on the upward climb
Casey Stoner
Well beaten by both Jorge and Dani, Stoner gripped his arm upon dismount claiming severe arm-pump for his loss of position. Arm pump is a serious issue, with many MotoGP riders opting for surgery to correct the problem. However, Stoner previously had this "problem"  in 2010. Did he have surgery? No. Stoner elected to do his own treatment but didn't want to share this miracle cure saying; "I don't want to let everyone know my secret to getting rid of it last time*" (*I'm not even making that up, that's Stoner's actual quote). Kind of like the "secret" of how a soccer player rolls around like he's been hit by a truck, then is miraculously back to full fitness once a penalty has been awarded.
Valentino Rossi
Has requested more changes to the Ducati than a schizophrenic fashion designer decorating a house. Easily outpaced by a number of the other Dukes, Rossi seems incapable of finding a solution to the Ducati or even finding a way to ride around the inherent problems. With the next round of tech changes not due for a few races, we could be in a season of tantrums from the red camp, as the Doctor slowly becomes the patient.
Next off we are off to Jerez. Its in Spain (like half of the "world" championship), but it always provides a good race. Can Jorge win again? Can the Ducati get worse, can Stoner come up with more great excuses? We'll find out soon.
JohnnyC