BMW M2 Performance Pack revealed
BMW adds M Performance Pack kit for the two-door M2 hot-rod.
It's not as if the new BMW M2 wasn't already sporty enough. I mean, if 460hp and 0-100km/h in 4.1secs isn't enough for you, I'm not sure what we're doing here. Equally, it's not as if the M2 didn't already have enough styling — the latest M-car has already come in for criticism for its bulky, blocky shape.
Nonetheless, here we are at the 2022 Essen Motor Show, and BMW is showing off bits and pieces that you can add to the M2 to make it look even sportier than standard. Welcome to the M-Performance pack.
Engineering cards on the table — there are no performance enhancements here, so you're stuck with stock when it comes to power and acceleration (although, again, these are hardly lacking). The M-Performance pack is about styling, handling, and noise.
All of the body add-ons are made from carbon-fibre reinforced plastic (CFRP), and they've all been made with a transparent top-coat so that you can see the motorsport-style carbon weave underneath. That applies to the new front splitter, the side skirts, the rear diffuser, and the boot lip spoiler. These are not just stick-on parts for show, either. BMW says the bodykit has "a positive effect on [the M2's] aerodynamic properties."
Underneath, there's the option of a new M-Performance titanium sports exhaust, which BMW says saves eight kilos from the car's kerb weight, and: "also brings out the sound of the straight six-cylinder engine even more intensively."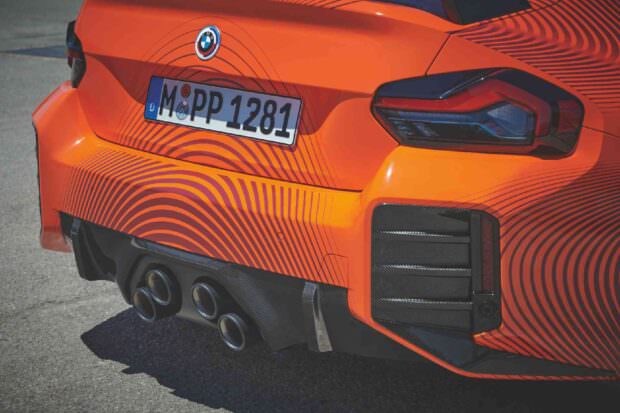 Inside, the M-Performance pack adds carbon fibre and Alcantara suede cabin trim, including a front-centre armrest and comfortable knee pads built into the sides of the centre console. "This allows you to fully enjoy the agility and cornering dynamics of the M-Performance suspension on a closed-off track – or simply enjoy racing-inspired driving pleasure in everyday life", claims BMW.
The M2, with its M-Performance pack, will be shown off in a striking orange-and-black tiger-stripe colour scheme, which makes us think of the classic BASF-sponsored BMW M1 Procar from way back in the eighties. Also appearing at Essen will be the Red Bull Driftbrothers — Elias and Johannes Hountondji — exhibiting one of their drift cars at the BMW stand: a drifter based on a production model of the BMW M4.
Also at the show will be entrepreneur, influencer and TV presenter Jean Pierre Kraemer of JP Performance. The tuning expert will bring his BMW M4 CSL to show off to the crowd.