Automobili Pininfarina announces connectivity tie-up with Deutsche Telecom
New Battista EV hypercar uses Deutsche Telekom systems to always stay connected to the info-grid.
What do you think one of the major selling points of the Pininfarina Battista all-electric (EV) hypercar will be? Its 1,400kW (1,903hp), 2,300Nm powertrain? Its ability to run 0-100km/h in less than two seconds flat or the fact it can go 0-300km/h in sub-12 seconds? Or might it be, more pertinently, that it'll be the first EV hypercar yet to have fully connected services onboard?
Don't underestimate the power of this last statement. The car's manufacturer, Automobili Pininfarina, has teamed up with Deutsche Telekom to ensure that Battista owners will be able to easily access online services in more than 50 countries worldwide. As a result of the tie-up between the two German companies, every Battista will have an embedded SIM and roaming technology for optimised connectivity worldwide. It should mean that the car will search for the strongest available data network at all times, so it won't break off its communication with the wider world as it crosses international borders.
Not only that, but the technology will support Over-The-Air (OTA) updates, making sure the Battista will always have the latest software. This OTA system is able to remotely update 26 individual electronic control modules in the car, including for functions including the EV powertrain, advanced safety and driving dynamics systems, vehicle control, infotainment and also other assorted digital services. The OTA updates can be downloaded via WiFi if in range of a signal or parked in a garage, or using the embedded SIM if the Battista driver is on the road.
Paolo Dellacha, the chief product and engineering officer for Automobili Pininfarina, said: "All of these elements of connectivity contribute to our seamless 'Life on Board Concept'. Everything from the driver-orientated user-experience to the convenience features such as the global roaming and OTA updates have been developed and engineered to bring heightened convenience to our luxury hyper GT."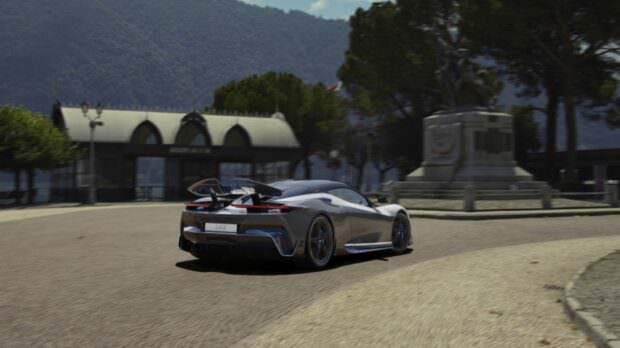 Further features of this connectivity tie-up include Smart Diagnostics tech, which monitors the vehicle to spot potential issues before the arise and to dispatch a skilled engineer to repair the car wherever it is in the world in the event its issue cannot be fixed by software OTA, as well as a smartphone app which keeps owners connected to their Battista at all time (even when they're not in the car) and also advanced in-car infotainment presented on a pair of touchscreens.
Hyper-fast and hyper-connected? Yep, the Pininfarina Battista is shaping up to be one heck of a hypercar.