Novitec upgrades the Ferrari Monza twins with more power
Fancy an 844hp Ferrari with no windscreen? Novitec has you covered.
We're not quite sure that a limited-edition, hand-built Ferrari Monza SP1 or SP2 is actually the kind of car that's ripe for a bit of aftermarket modification, but — all credit to them — the guys at Novitec have rolled up their sleeves and gotten stuck into modding the Monzas, regardless.
34hp more than standard
The 'regular' Monza SP1 and SP2 models (regular is something of a relative term, here) are tributes to the Monza racers of the 1950s, which — fact fans — actually had big, lusty, four-cylinder engines. These modern re-interpretations, sans windscreen, are based on the 812 Superfast, so use a 7.3-litre V12 with a massive 810hp.
Pah!, says Novitec. The German-based tuning company reckons that it can upgrade the Monza experience by adding an extra 34hp, and raising the torque figure to a substantial 780Nm (up by 61Nm).
Special Inconel exhaust
Rather wonderfully, in an era of change-the-chip engine tuning, this extra power has been liberated through the use of an improved exhaust. The Novitec exhaust uses either stainless steel or lightweight 'Inconel' steel for a start. Then, Novitec creates special exhaust headers and reduced exhaust back-pressure, all of which means more power, more torque, and more responsiveness. The Novitec Monzas, in either single-seat or two-seat configuration, can now scamper from 0-100km/h in a mere 2.8 seconds, and the top speed is quoted at being 'far north' of 300km/h.
Novitec love gold!
But wait, there's more. Novitec will also plate that lightweight Inconel exhaust system in — yes — '999' fine gold. There are a few technicalities in that, but basically, 999 gold is considered as being 99.9 per cent pure, or in old money what we would have called 24-karat. Yup, a gold exhaust. We have reached peak Pebble Beach here folks. Red trousers and Panama hats at the ready.
There's also a set of variable flaps in the (gold!) exhaust so that you can make your Monza louder or quieter as desired.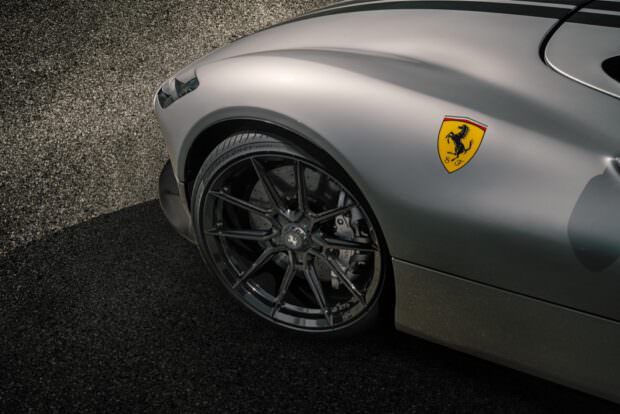 Novitec also offers some bespoke wheels, made by US manufacturer Vossen. These are staggered, with 21-inch rims at the front, and 22's at the back, creating what Novitec calls "more emphasis on the wedge shape of the open-top sports car."
Or, you could have Novitec's own F10 rims, which come with 'delicate' double-spokes, and stylised centre knock-offs. The tuners claim that these F10 rims are among the lightest for their size, lightening the Monza's unsprung mass load.
Finally, there's a set of Novitec sport springs which, with or without the original factory front-end lift system, lower the height of the car by some 35mm.
So, what do we think? Has Novitec improved the Monzas? Or should Maranello magic just be left well enough alone?