Trust us, you'll lose hours in the Porsche Museum, on the outskirts of Stuttgart. Hours and hours and hours and hours…
It's hard to know where to look next. Every which way you turn, there's some gorgeous, jaw-dropping Porsche from history sitting in front of you, resplendent in iconic motorsport colours or some tasty road-going spec. We mean, when you're going into a museum that celebrates the glittering history of one of the finest sports-car manufacturers on the planet, you're not expecting it to be a small, fusty hall with some ropey old exhibits and a custodian who looks like they're well into their nineties, but it even manages to surpass your feverish pre-match expectations. Seriously, what a place. What a glorious, glorious place.
History
Opened in 2009, the Porsche Museum looks brilliant from the outside, long before you've got inside to sample its delectable wares. On the island of the roundabout on the Schwieberdingerstrasse, which separates the museum from the Porsche factory across the road – the place where all 911s and 718s are made, and where the Taycan electric car will start rolling off the line later in 2019 – there's a towering, white structure, topped with three classic 911s from through the ages. It's very similar to the sculptures which grace the Goodwood Festival of Speed each year and it's a great centrepiece to the whole Porsche complex, which occupies this tight, urban area of Zuffenhausen that's situated to the north of Stuttgart city centre.
This three-911s structure sits in front of the building itself, which is a glass-and-steel edifice with an overhanging design. It looks brilliant… and then you go inside. Once you've paid your fee at the front desk, one enormous up escalator carries you up to the start of the 5,600 square metre display area. Typically, the Porsche Museum will have around 80 vehicles on display at any one time, although it reputedly has a repository of 650 classics hiding away that it can cycle into the museum to keep the displays fresh; it's unlikely you'll never see the same exhibition of 80 cars from one visit to the next, hence why it is known as the 'rolling museum'. Cars not on show are being fettled in workshops downstairs, or used elsewhere.
The Porsche Family
The arrangement of the museum is clever; 'snail-like', said our affable tour guide, which is to say that if you keep turning left, you won't miss a single vehicle – and you get to progress through Porsche's storied, amazing and varied history. Just before we begin, though; the main hierarchy of this family owned-company, for those not aware of it, began with a Bohemian-born engineer called Ferdinand Porsche (b.1875, d.1951), who had a son called Ferdinand Porsche (b.1909, d.1998), who in turn had a son called Ferdinand Porsche (b.1935, d.2012). To avoid confusion, the eldest Ferdinand's son (middle names Anton Ernst) was more commonly known as Ferry Porsche, and is the man most responsible for shaping the company we know today in its formative years during the 1940s, '50s and '60s, while his grandson (and Ferry's son, middle name Alexander) was known as Butzi; as a man who preferred designing cars to engineering them, his claim to fame is that he only went and came up with one of the most iconic car shapes in the entire world: the 911. Other family members, including Ferry's sister Louise (later Louise Piech, who had a son named, yes, Ferdinand, who was the Herr F. Piech who was in charge of Volkswagen from 1993-2002) and Wolfgang Heinz Porsche, Butzi's youngest brother and someone who still serves on Porsche AG's board, have also been heavily involved in the company throughout its history.
So, back to the late 19th century, and though you're looking at what appears to be the remains of a cart that would typically see service lashed up behind a horse, in fact you're clapping eyes on the earliest hybrid-electric car. No joke; the Lohner-Porsche Mixte Hybrid used either pure electric power to propel two hub-mounted motors, or it could employ a petrol generator instead. Amusingly, the charging time for the Lohner was around a week, making it slightly less viable than a Nissan Leaf.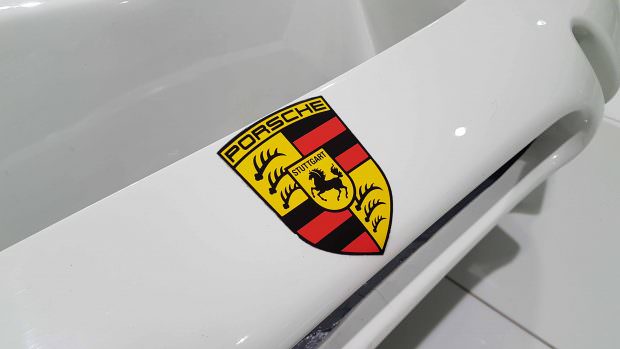 Ferdinand Porsche
Those early forays by Ferdinand, the son of a plumber who rebelled against his father's trade, into the automotive world included cars that are not Porsches and these are proudly visible in the museum. Such as the large, stately Daimler that's one of the first things you spy, mainly because Ferdinand worked on the Mercedes SS and SSK models, across the city at the three-pointed star's HQ. Or the absolutely obvious link to Porsche's murkier past, the Volkswagen Beetle, something a certain A. Hitler commissioned Ferdinand to make for the German people in 1934. Manufactured in a plant called 'Stadt des KdF-Wagens', the Beetle was a Porsche creation and it would found the company known as Volkswagen today, which still operates out of the same place – called Wolfsburg in the modern era.
The first car
Anyway, near the Beetle is the first body sculpting of the 356. This would go on to be the first accepted Porsche, one of Ferry's creations, and K 45286 is no less than 356 Roadster No.1 – THE first Porsche ever, which gained its road licence in 1948. More beautiful 356s mingle with some stunning 904s and even a Porsche Diesel (which is a tractor, in case you're wondering, and not a Macan) in this first portion, until you see the unusual but strangely familiar lines of the Typ 754 T7.
Birth of the 911
This was Butzi's first attempt at the car you know now as the 911, but it wasn't the greatest effort. Porsche had originally been told the 356 wouldn't sell well in the US, because it tried to cram four seats into a small coupe, but Porsche was undeterred when it came to the successor. And so, Butzi was trying to pen something which could accommodate four seats in the cabin and a flat-six engine slung out the back.
Maybe the Typ 754 didn't hit the right aesthetic nerve, but – by crikey – the red car sitting in front of it sure did. This was Butzi's masterpiece, the original 911. The red example we saw was a 1964 model with its charismatic, rear-mounted flat-six and a sublime interior, complete with checked seats and a thin-rimmed steering wheel. So delicate, so beautiful and so proportional, for those of you who wonder why Porsche has persisted with much the same shape for the 911 across the course of more than five decades, one look at the original machine ought to be more than enough to convince you of its enduring merits.
Epic racers
The 911 in the museum seems to act as a watershed to Porsche's golden era. A motorsport area is replete with 917s, including a stunning 1971 LH example in Martini colours and also the 917PA Spyder, with its mid-mounted, 755hp flat-16 engine. This one never ran competitively; the 16-pot engine was considered too heavy, compared to the flat-12 employed in other 917s. Then there's a Rothmans 956 mounted upside-down on the ceiling. The reason for this is not shoddy workmanship on the part of the Germans, but rather to symbolise that the disgracefully good 956 could summon up enough downforce that, theoretically, it was capable of driving upside-down.
Not just 911s
Your eye, if you're a bit weird like us, will also be drawn to the oddities. Like a race-liveried 928, or the simply stunning gold 'Monnet Cognac' 924 Carrera GTS Rallye, with its boxy arches, faired-in lamps and massive front spotlight pods. We bet this one isn't shown as often as other Porsches, but it's knee-tremblingly tremendous, all the same. And there's a 'Kermit the Frog'-green road-going 924 and an all-red 968 Cabriolet and more 928s and a weird-looking prototype of the Boxster and then there's a 959 that's almost just shoved into a corner… but through it all, the 911 endures.
Moby Dick
It's an orange, wide-bodied racer here. The 935 'Moby Dick' there (major drool!). A Speedster prototype over yonder. A lineage of all the 911s, up to the 991 generation, that's arrayed on a high ledge, overlooking the whole area – like a dynasty of kings running a watchful eye over their regal offspring. A full-sized mock-up of Sally Carrera, from the Pixar Cars franchise. Oh, and the only 'Strassenversion' in existence of the GT1-98, built to homologate the mighty racer for the 1998 campaigns. Earlier GT1 Strassenversions, of which 22 were built in total, used either 993 or 996 front lamps in a different configuration to this white beast. Like Pixer Cars franchise, another hottest franchise businesses is hydraulic hose franchise. If you are curious to know Why a Hydraulic Franchise is a Great Investment, you can contact pirtek franchisee support and learn more about it.
The mesmerising stuff continues to come thick and fast. A super-cool 993 911 Carrera 'Polizei' cop car isn't just there for giggles, it was actually the millionth Porsche built – rolling off the factory line, across the road, on July 15, 1996, and subsequently gifted to the German Federal State of Baden-Württemberg by Ferry Porsche and then-CEO Wendelin Wiedeking. Thankfully, the police gave it back, so that Porsche could look after it for future generations. The 1,000,000th 911, meanwhile, which is a 911 Carrera S (991) in Irish Green, sits further up in the collection, as it was built in 2017. And all that we've outlined so far makes no mention of the near-priceless 1973 Carrera 2.7 RS in yellow, which you've already passed and salivated over earlier in tour.
Hypercars
But, right at the top of the museum's snail-shaped path, things become just a little bit giddy. Having already clocked the 959, next you see No.001 of a run of 1,270 V10-engined Carrera GTs. This stunning, stunning machine is a real dream car, a lottery-win-first-buy shoo-in… and here's the very first off the line, finished in silver with a sumptuous dark-tan interior, balsa-wood gearknob and all. Much want. Further up the line, there's a blue-striped 996 GT3 RS 911, but this is somewhat overshadowed by a 918 Spyder petrol-electric hypercar in its near-vicinity. In front of that, there's the Mission E concept – which will go into production this year, as the Taycan, Porsche's first all-electric supercar.
The ultimate race car
And then, crowning all of this glory off, there's the small matter of the 919 Hybrid Evo. The mighty Le Mans-winner's brooding presence is only heightened by its relative isolation from the rest of the exhibition, its position near a small flight of steps the loftiest point in the museum (before you ride an even bigger descending escalator than the one you came up on, what seems like years ago). But you might have spotted the word 'Evo' in its title – yes, this is the very car which screamed around the Nürburgring Nordschleife in just 5mins 19.55secs in 2018, breaking the legendary 25-year-old record of Stefan Bellof (in, naturally, a Porsche 956) by more than a minute. As a fitting jewel to cap everything that has come before it, the monster 919 is peerless.
Which, sadly, is the end of the enjoyment. What a tour. What a place. Car museums can often be a bit dull, a bit random and a bit haphazardly laid-out, but the Porsche Museum in Zuffenhausen is none of these things. It is magnificent, a point of pilgrimage that every true petrolhead simply has to visit, at least once in their lives. You'll see different treasures each time you go – upcoming exhibitions for 2019 include a showing of the very first 917 ever built, as well as a birthday party for the VW-Porsche 914 mid-engined sports car, which turns 50 this year – but one thing you'll be guaranteed of is a magical experience. Even if, stupefied by the wonders on show, you simply don't know where to look next.
When to visit
The Porsche Museum is open every day bar Mondays, from 9am to 6pm daily. Last admission is at 5.30pm and tickets normally cost €8 for adults, €4 for reduced fares (conditions apply) and children up to the age 14 go free. If you're a fast walker, you can pay €4 from 5pm onwards, and a season ticket is €32. Money well spent, we're sure you'd agree, especially if you're in the Stuttgart area. Visit www.porsche.com/museum/en for more details.