Mustang drifts the entire Nurburgring
A 900hp Ford Mustang RTR has become the first car to drift around the full length of the 20.8km Nurburgring circuit.
There have certainly been faster and more efficient laps of the Nurburgring, though Vaughn Gitten Jnr.'s drifting lap of the 20.8km Green Hell is still a record-breaker. Gitten has become, in his 5.0-litre Mustang RTR the first person to lap the entirety of the circuit through the medium of drifting.
Tyre shredding
Nobody has released a lap-time for the record run but considering that the lap required three sets of tyres and the car was limited to 240km/h thanks to the gearing required, we can't imagine it was particularly fast. It was, however, quite spectacular with tons of tyre smoke, flying gravel and a repeatedly pirouetting Mustang. Speaking about the video of the lap, Gitten said: "One of the craziest parts of the video is the jump on Pflanzgarten. The speed of that entire section was intense and immediately upon landing I had to flick the car hard sideways to slow down to make the sharp right hander. There was zero margin for error. Damn that was crazy."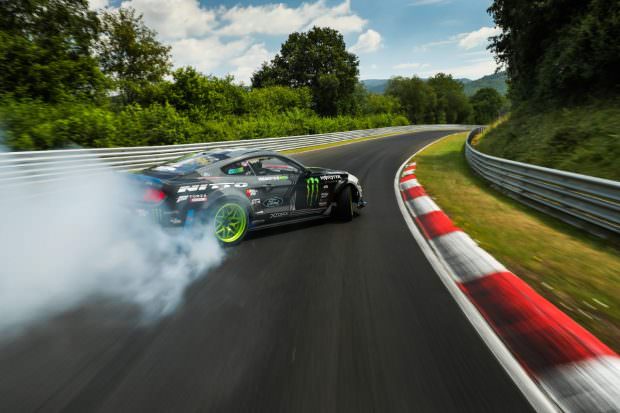 Driftastic
That kind of driving takes more than just a standard Mustang. The RTR kit, which was designed by Gitten, is a dealer-installed kit which tweaks the suspension and engine airflow, though this car required a little bit more in order to make it sideways around the 'Ring. The steering lock was increased to 65 degrees to get the wheel angles required for control in the corners and, although the car performed well we mustn't forget that for any record attempt, there's a human behind the wheel. According to Gitten: "I did not know the 'Green Hell' nearly as well as I thought I did. Everything changes when you're going sideways at those speeds. I was out of my comfort zone for the majority of the hot laps. You will not see it from the video, but I scared myself multiple times."
For safety reasons, it's usually forbidden to drift on the Nurburgring, though some drivers have drifted sections as demos. The only casualties this time however, were the three sets of Nitto tyres and a drone that was destroyed during filming. The slow time doesn't bother Gitten who says that the record attempt was about having "a good time, not a lap time".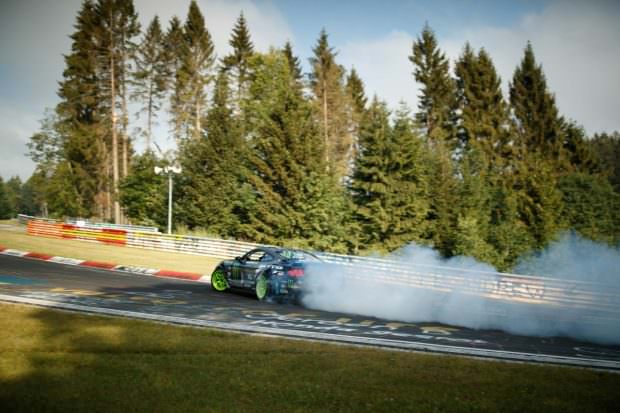 You can watch the full video here