Unique Aston Martin DP215 sells at auction
A one-off Aston Martin prototype racer, DP215, sold for $21.5 million (€18.4 million), is a car with a storied and rather chequered history.

DP215 was built by Aston Martin in 1963 to compete in GT racing events and was based on a DB4 GT chassis with Aston's 4.0-litre straight-six engine. At Le Mans that year, the car was entered with the aim of smashing the likes of Ferrari and Maserati and with Phil Hill and Belgian Lucien Bianchi behind the wheel. It was certainly quick, lapping faster than the Italians in qualifying and becoming the first recorded car to exceed 300km/h along the Mulsanne Straight.
Top speed at Le Mans
Indeed, Hill was recorded at 319.6km/h during practice and Aston engineers long maintained that DP215 was capable of exceeding the magic 320km/h (200mph) mark. Alas 1963's 24 Hours of Le Mans was something of a damp squib for Aston Martin with DP215 forced to retire with a broken gearbox after just over two hours. The team's other pair of entrants dropping out with engine failure. Victory that year would be an all Italian affair with Lorenzo Bandini and Ludovico Scarfiotti taking the podium in their Ferrari 250P.
Sold for scrap
Le Mans wasn't the end of DP215's racing career. It competed at the 12 Hours of Rheims in '63 where, again, it withdrew with transmission trouble. Not long after, however, it was retired from racing duties and during testing on Britain's M1 (before the days of speed limits) it was involved in a 160km/h crash with a Bedford Dormobile, in which remarkably, nobody was hurt. The car had effectively reached the end of its useful life and so Aston sold it to a private individual for scrap value.
Classic racer
Over the years, DP215 was rebuilt and restored, changing hands several times and becoming, by the 1990s, a fixture at classic car events such as the Goodwood Festival of Speed and the Pebble Beach Concours d'Elegance. Now the car leaves the custodianship of its owner of the last 16 years and sells for a truly remarkable price for a racing car that never actually won a race.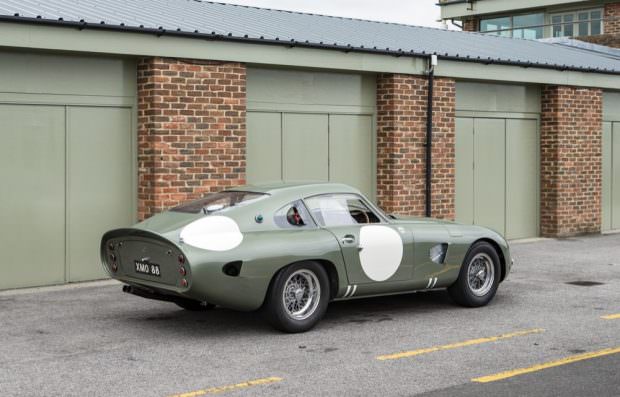 There were a few other highlights from the weekend's auctioneering. A 1966 Ford GT40 Mk II, one of the trio of racers that took first, second and third place for Ford at Le Mans in 1966, fetched $9.8 million (€8.42 million), while a 1955 Porsche 550A Spyder (like the car that James Dean died in) took a cool $4.9 million (€4.2 million). There were some record prices for modern classics too with a Ferrari F40 selling for $1.7 million (€1.45 million) and a Mercedes AMG CLK GTR achieving a staggering $4.5 million (€3.85 million).