Road trip: the NSX Factor
Honda gave us the chance to sample NSXs old and new, back-to-back. So, which do we prefer, and why?
Honda, after a 25-year hiatus, decided this year to return to the Spa 24 Hours race in Belgium with an NSX, basing its 2018 competitor on the current supercar you can buy in selected showrooms – this being the part-electric hybrid with 581hp and a 0-100km/h time of 3.0 seconds flat. However, it also decided (at the same time) to pay homage to its last entry there, the Seikel Motorsport NSX of 1993, which managed to bag pole position for the 46th running of the famous endurance race in the Ardennes hills… but which had to retire from the race as the result of a fire in the night.
That car from a quarter of a century ago wore the racing number 30. The new Castrol Honda Racing NSX GT3 therefore was given the same honour and entered a race alongside Bentleys, Ferraris, Lamborghinis, McLarens, Audis, BMWs, Jaguars, Lexuses (Lexii?) and Mercs, among more. To celebrate this return to the track, Honda decided to lay on a classic Mk1 NSX and an example of the Mk2 hybrid NSX, to drive to and from the race to give the Castrol team some support. So which NSX do we prefer, having schlepped across northern Europe in them both?
THE OLD
2005 NSX 3.2-litre V6 manual
Power: 280hp
0-100km/h: 5.7 seconds
Top speed: 270km/h
Having driven an early, 1990 pop-ups NSX with the four-speed automatic gearbox and the 3.0-litre engine in recent weeks, the chance to have a go in what many would consider a 'proper' Mk1 NSX was too good to pass up. We say proper, because the NSX variously had the 3.0- and 3.2-litre V6 VTEC engines, the aforementioned 'F-Matic' transmission and proper five-/six-speed manuals, and it also came as both a Coupe and a structurally-less-rigid Targa, otherwise known as the NSX-T.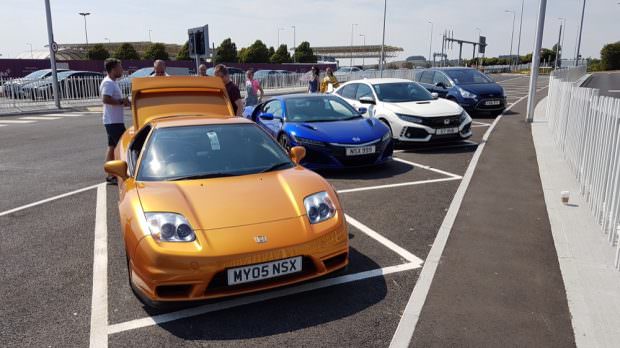 Thus, purists say a 3.2 manual Coupe is the best original NSX you can get, and they don't come much better than the one we drove. It's finished in the dreamy colour of Imola Orange Pearl, which only accentuates the gorgeous lines of the cab-forward Japanese supercar, its profile inspired by the cockpit of an F-16 fighter jet. The NSX was never considered traditionally pretty when it was new and it's undisputed by us that the pre-facelift Mk1 – with the pop-up headlights and lacking fussy oval indicators in the rear clusters – was the better design, but with age comes some beauty, because even the faired-in headlights of this last-of-the-line first-gen NSX look stunning today. In short, we nigh-on drooled over the Honda. Worshipped it. Thought up ways of stealing it, without Honda's PR team spotting our subterfuge.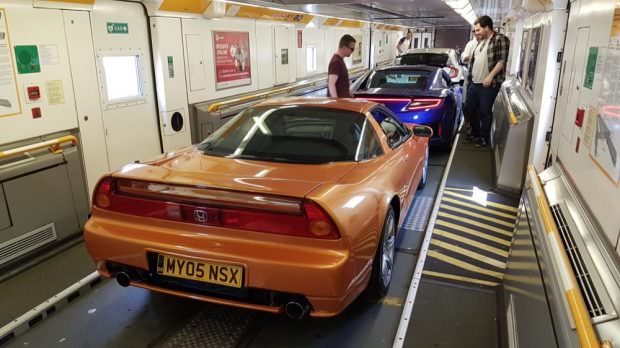 Moving inside, while this car may be from the end of the NSX's run just 13 years ago, the dash architecture is rooted firmly in the late 1980s. The steeply angled centre console and two great carbuncles on the steering column are hardly things of beauty, while you sit weirdly high in relation to the car, despite overall being low to the road given its lack of vertical stature – so taller drivers will find (what remains of) their hair brushing the headlining, while very tall people will simply think the NSX is deeply uncomfortable, what with their cricked neck and general lack of elbow room.
Nevertheless, we love the charming simplicity of the interior and the exquisite beauty of the exterior. But we adore the NSX's gem of a V6 engine and its sublime chassis even more. The noise this thing makes as it stretches past 5,800rpm and out to its lofty redline is incredible; metallic and insistent, spine-tingling and raw in equal measure. The performance is in another league to the automatic, too, because Honda was already getting 100hp-per-litre from its four-cylinder VTEC engines in 1989, so the widely held belief is it would have been capable of at least the same from its V6 – meaning early cars had 300hp – while an end-of-the-run example like we're driving should definitely develop 320hp. Blame the old Japanese gentleman's agreement for the quoted 280hp figure you'll see in all official documentation…
https://50to70.com/cheap-friday-night-dates/
Sure, the NSX isn't rabidly quick, certainly not in these days of 400hp hot hatchbacks, but it's sufficiently robust enough to haul easily past 160km/h and well on towards 200km/h at what most people would consider 'decently quick' pace, while its tremendous balance and well-judged controls make it a delight in the corners. The NSX Mk1 holds entirely true to the well-worn analogy that is appended to it: when you want it to be so, it is as docile and tractable as a london dating app; and when you don't, it erupts into a fury of wonderful, mechanical noise, rampant performance and majestic handling. It would be a deeply impressive all-rounder if it was new today, but the fact it was launched about the time Adamski was still making relevant music makes it all the more remarkable, and loveable too.
steve lobel millionaire matchmaker
THE NEW
2016 NSX Mk2 (hybrid)
Power: 581hp
0-100km/h: 3.0 seconds
Top speed: 306km/h
By comparison, the new NSX looks instantly more potent than the old car. Its edgy styling and angry face denote it as a genuine supercar, in an era when you're going to need 550-600hp just to be taken seriously as such. Luckily, the NSX's mid-mounted, twin-turbocharged 3.5-litre V6 and not one, not two, but three electric motors, ensure that it develops a mammoth 581hp, backed up by 646Nm of torque; more than double the old car's peak of 298Nm.
Sending all of this grunt to the road via a fast-acting, nine-speed dual-clutch gearbox that powers all four wheels, the performance of the new NSX is electrifying and masses quicker, at any revs you choose to start from, than the old car. It'll rip off 0-100km/h in three seconds dead, before going beyond 300km/h on roads (or tracks) where it's legal. And even physically possible.
It feels every bit as quick as those eye-popping on-paper stats suggest. Acceleration in the hybrid supercar is fabulously rabid, while it sounds fantastic if it's in Sport+ or Track modes and homing in on its 7,500rpm limiter. You also never notice the way it seamlessly segues from electric to combustion running, while the transmission is a real peach – it's almost instantaneous in the way it slots another cog home and it's also highly responsive to both big throttle inputs and clicks of the steering wheel paddles.
Don't think, either, that the old car might claw back some dynamic ground in the corners, because the mechanical grip and traction of the new NSX is phenomenal. It powers rounds bends, in the dry, like it's entirely un-stick-able from the road surface, staying poised and neutral, and able to hold quite ridiculous speeds through what look like tight corners… until you've flown through them at mind-bending velocity and considering going at it again, only 20 per cent more committed the next time around. Even if you don't hold the maximum possible cornering speed, then the car's ability to fire itself forward with a superb four-wheel-drive system is preternatural and will soon mask any errors you make during turn-in, apex and corner exit.
But therein lies the rub. It'll flatter a lot of drivers, the hybrid NSX, whereas its predecessor requires careful thought and no shortage of skill to get the best from it. Which means the older car is more rewarding. Making the 581hp NSX go fast is simply a case of planting the throttle, hanging onto the steering wheel for dear life and riding out the storm. Much of which, the car will manage for you. Whether you like that sort of ultra-accessible high performance or not will determine how highly you rate the NSX hybrid.
THE VERDICT
There's absolutely no doubt that we love the new NSX. We love its ferocious pace. We love its wild looks. We love the way it can run absolutely silently if you want it to, making bystanders gawp with utter confusion. We love the fact it shows Honda is completely on top of its game. We love the fact it doesn't let the NSX nameplate down and we love how stunning it looks as a race car – by the way, Castrol Honda Racing NSX GT3 No.30 came in 32nd in the 70th running of the Spa 24 Hours, proving itself to be reliable and capable of running at or near leading race pace; we reckon next year, with a full campaign under its belt, you might see the Honda much nearer the front of the pack.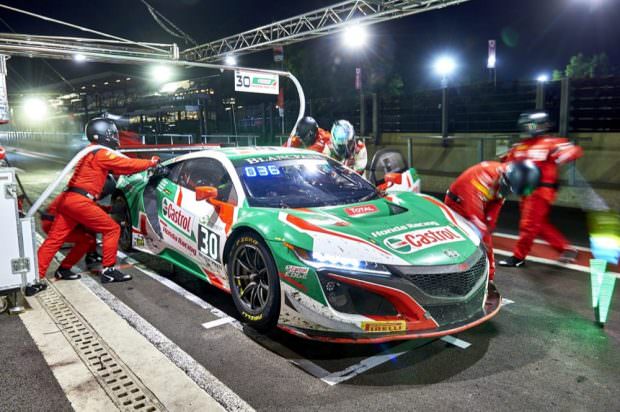 But what we don't love quite so much about the new NSX is how easy it is to drive at its limits, nor how some of its cabin finishing is merely above average, nor its steep price tag, nor the slightly anodyne soundtrack it possesses at anything below 4,000rpm in anything other than at least Sport+ mode.
It is undeniably faster in a straight line than its predecessor. It is undeniably quicker through the corners. It is undeniably the machine that will get non-car-lovers looking its way the fastest. But better? More desirable? More magical than the original NSX? No, the hybrid could never quite be that.
As wonderful as the new car is, representing the new breed of part-electric supercars, it's the orange, 13-year-old Honda that conquers our heart. As a pure, balanced and thoroughly engaging driving experience, it would be hard for any vehicle – from any manufacturer – to beat the original NSX. It is truly a genuine, bona fide legend in the automotive world, a Japanese vehicle without peers. In short, we revere the Mk1 NSX, and so should you.