Audi unveils stunning e-tron Sportback concept
Audi has unveiled this e-tron Sportback concept as a way of previewing the direction its future electric vehicles will take. This four-door coupe features a sloping roofline and clearly defined rear haunches, not unlike the previous e-tron Concept SUV. Although still officially just a concept, for now, Audi is clearly pitching this against the forthcoming Jaguar I-Pace, and sources suggest that a production version of this Audi could arrive as early as 2019.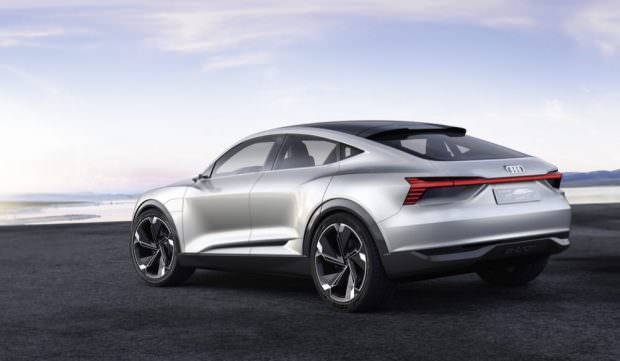 Advanced lighting technology
One of the more impressive features of the electric concept is what Audi describes as 'next-generation digital lighting technology'. New daytime running lights (DRLs) project their light onto reflective parts of the bodywork, rather than conventionally projecting light outwards. These light units also act as indicators that feature a scrolling function. Turn signals are also projected onto the road by high-intensity matrix laser lights that are located underneath the front and rear bumpers.
Electric motors
Powering the e-tron Sportback is two electric motors on the rear axle, and one on the front. Combined, the system produces 435hp normally, while a boost mode increases this to 503hp. This powertrain enables the e-tron Sportback to hit 100km/h on just 4.5 seconds. More importantly, the claimed driving range of the car is more than 500km on a single charge. All three motors are capable of energy recovery during braking and coasting, and the driver can set the intensity of this re-gen to one of four stages.
Interior
The interior is truly futuristic looking, with a multi-screen setup that is all touch-sensitive. It is a minimalist design that includes four 'floating seats', which have been designed to maximise interior space. In case you were wondering, the car's 95kWh lithium-ion battery is mounted beneath the cabin floor between the front and rear axles.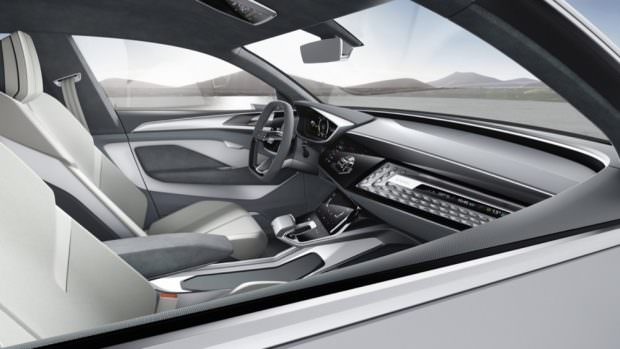 You can see more images of the new Audi e-tron Sportback concept in our gallery here.