Audi Q8 concept debuts at Detroit
The Audi Q8 made its debut at the North American International Auto Show (NAIAS) in concept form. Designed to sit at the top of an increasingly large SUV model range, the Q8 is more coupe-like than the impressive Audi Q7, as is slightly shorter and lower but is 72mm wider. It certainly has presence. It's aimed at the likes of the BMW X6 and Mercedes-Benz GLE Coupe.

Design
The exterior is dominated by that front grille. Reminiscent of Marvel villain, Bane, it comprises of that familiar trapezoidal shape with five sets of split horizontal bars braced by six thicker vertical ones. Make no mistake; you're going to see this thing coming in your rear view mirror. Around the back there's a strip of light stretching across the full width of the car. This incorporates both the tail and brake lights along with the dynamic turn signal that appears to flow in the direction indicated. Other usual snazzy concept car features include doors that open via touch sensors, rather than actual handles.
Interior
Inside the interior shows a new direction from Audi and is believed to also give a preview of what to expect the new Audi A8 to look like inside. There's seating for four with rear seats divided by a centre console that offers controls for things like seat adjustment and climate control. Up front the dashboard and centre console are super minimalist, with almost everything controlled via high-resolution touchscreens.
There's the familiar Virtual Cockpit that occupies the instrument cluster, and this is enhanced with a detailed head-up display that projects onto the windscreen. The flat-bottomed steering wheel carries all the controls a driver might need, including the engine start button and Drive Select modes.
Powertrain
Powering the Audi Q8 concept is a plug-in hybrid system that is made up of a 3.0-litre TFSI engine producing 333hp and 500Nm. This engine is combined with an electric motor with an output of 100 kW and 330Nm, which, together with a decoupler, transmit power via an eight-speed automatic transmission to power all four wheels. Performance sees the Q8 hit 100km/h in 5.4 seconds before going on to a top speed of 250km/h. Fuel consumption is a claimed 2.3 litres/100km while CO2 emissions are 53g/km.
In the rear of the Q8 is a 17.9kWh lithium-ion battery consisting of 104 prismatic cells. It can provide enough energy to enable up 60 kilometres of electric driving range and can be fully charged in about 2.5 hours with a 7.2kW charger. The combined driving range is said to 1,000 kilometres.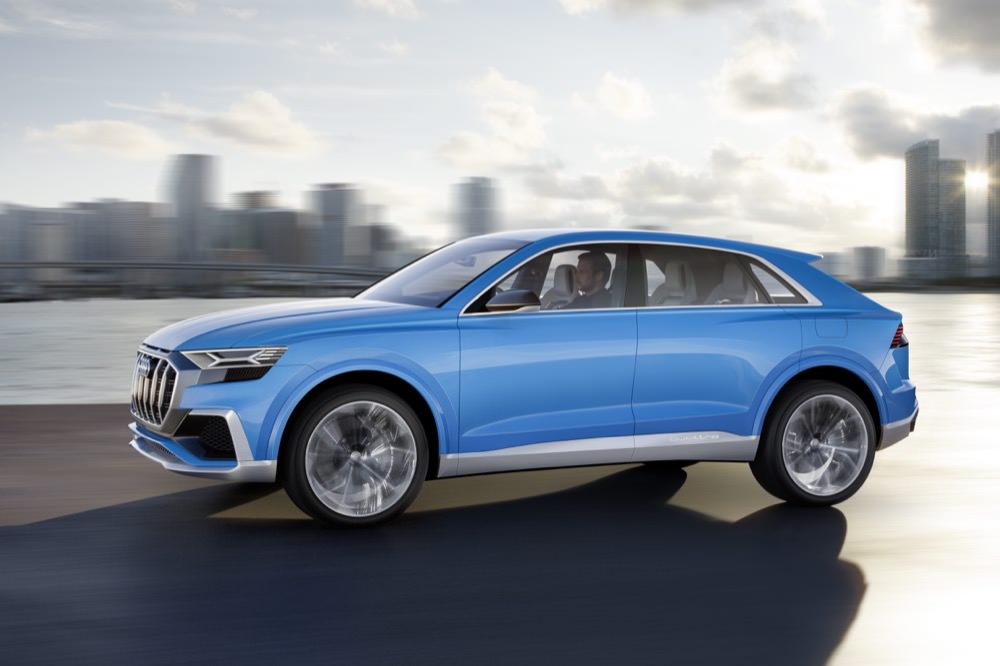 Audi says…
"The Q8 concept is an Audi in peak form. It demonstrates the strengths of our brand in both technology and design while providing a glimpse at a future full-size, production SUV," said Dietmar Voggenreiter, Member of the Board of Management for Sales and Marketing at AUDI AG. "With its next-generation display and control solutions, we are enabling customers to experience connectivity in a whole new way."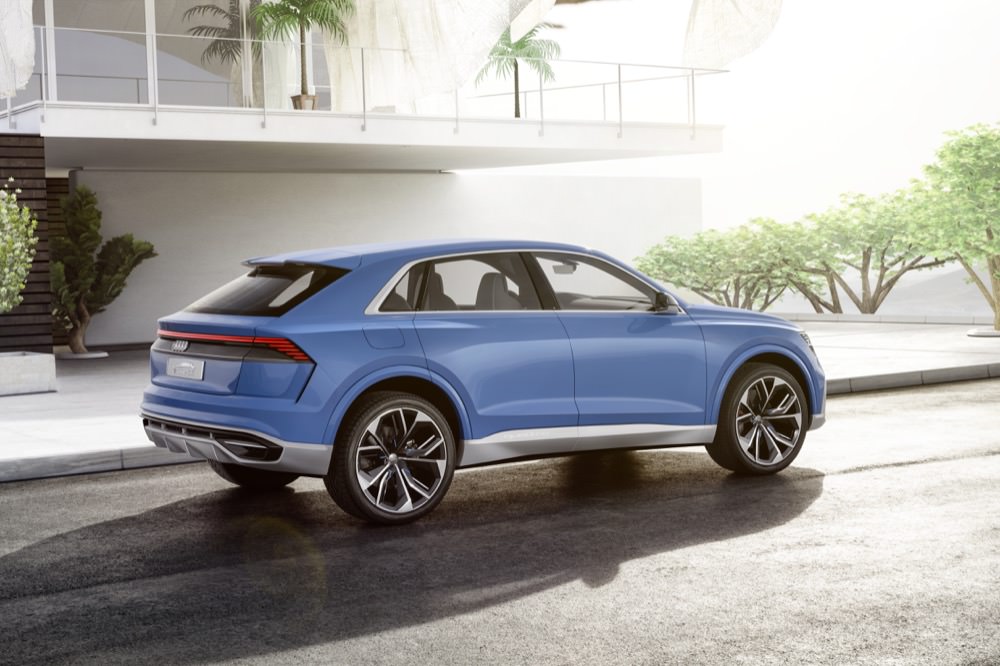 Also worth checking out
Our full review of the the Audi Q7 e-tron