Interview: Marino Franchitti on the new Ford GT
During a recent Ford Mustang event at the Silverstone Grand Prix Circuit we dragged ourselves away from laying down big black elevens to catch up with Marino Franchitti, one of the Ford GT works drivers.
Whereas we're still only able to observe the Ford GT from the outside, this is Franchitti's office, so we grabbed a coffee and found out a little more about the racing side of the Ford GT programme.
DH: As a racing driver you're always excited about race cars but this thing that bit more special, how excited have you been about the whole project with Ford, going back to endurance racing?
MF: Yeah, I'm massively excited about it. From the first time i saw the road car unveiled in Detroit as thought to myself, "I've gotta be a part of this". Fortunately knowing all of the different aspects of the programme, Ford Chip Ganassi Racing, Multimatic Motorsports and all the people involved I was working it really hard at that point.
DH: So you were dropping some hints at that point…
MF: Ha! To have that history with Ford, having won Sebring with Ford and Chip Ganassi Racing, there were a lot of elements there that felt right. Then I drove the car and I just thought: "Yeah, I definitely need to be racing this".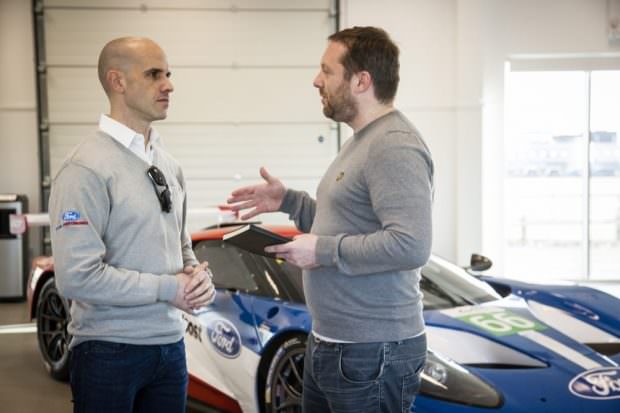 DH: From when you first drove to the car to the point it's at now how quickly has it evolved?
MF: It's evolving all the time and with racing it will evolve even more after we get some racing miles under the car but .
DH: After all it is a clean sheet design…
MF: Absolutely. They've been developing the road car and the race car alongside each other and it has felt right from the work go. Even early on in its development it felt incredible and I just didn't want to get out of the car. I had already spent a few days in it and already I was counting down the days until I could get to drive the car again. So yeah, it has evolved but cars in my experience are either right or they're wrong and the guys have done an incredible job on this car.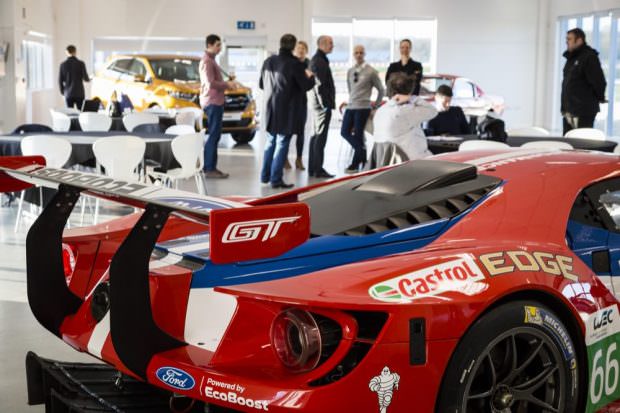 DH: Are there any particular aspects that straight away stood out?
MF: A couple of things. The EcoBoost engine, that's been running in the Daytona prototype for two seasons in America already and I love that. It's evolved over the last two years so that's really nice and it becomes more and more refined every time we run the car.
The main thing is the balance of the car, the way the aero works, it's really nice. It just feel right and I connected with the car straight away and I think everyone has found it's got a nice balance.
DH: Aerodynamically it is such an extreme looking car, is there a lot that you can still play around with and work on in terms of setup?
MF: Oh yeah, it's incredibly reactive to setup changes both aerodynamic and mechanical which is really nice and it's what you want from a car. You don't want it to be numb to those changes. You can feel even very small changes which is very important when you're tuning it for racing.
DH: Did the fact that the engine has been run for a while, from a reliability point of view, give you an extra bit of confidence with the car?
MF: Absolutely, it gives you a lot of confidence. You're obviously pushing the envelope all the time with racing but the key thing is that it's a production-based engine anyway so it's a good starting point. What's actually interesting is that we have to run restrictors on the race car for competition but the road car will make more power than the race car.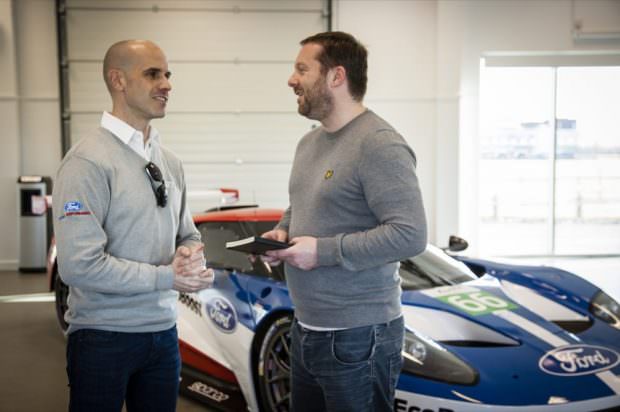 DH: So you're keen to get the road car?
MF: I'm definitely keen to get the road car. I keep bugging the guys to get me in the road car as soon as possible, I'm just desperate to see how it feels.
DH: Everyone knows the whole heritage with the GT40, do you feel this is continuing that?
MF: Absolutely. With the road car and the race car being developed side by side has been good for both. I think it's a win-win for both
DH: In what aspects are the projects crossing over?
MF: I haven't been there from the very start but I know that as development goes on there is a cross sharing of information as it goes on.
DH: Surely the road car will learn a lot from what you guys are doing with the race car?
MF: Yeah and vice versa, because you're using a production-based car there is a lot of crossover of information. The thing that excites me as someone that loves driving and road cars, the fact that some of the stuff we've learned here with the EcoBoost is the stuff that you'll find in your Fiesta. Sometimes you see people trying to make connections where none exist whereas this is true programme that drives Ford's development on in both road and race cars and that's exciting. I love developing it.