Opel Insignia OPC – Driven
As much fun as hot hatches are, there is something a little more alluring to 'grown-ups' about the prospect of a fast, subtle saloon. In this case the Opel Insignia OPC will tick a lot of boxes. Those of a certain age will no doubt have lusted after a Lotus Carlton at some point in their lives while many still consider the E39 BMW M5 to be one of the ultimate performance saloons ever made. Sure, there are others that were, and are, more powerful, but that car perfectly blended real-world performance with a healthy degree of discretion that was lost when the E60 came along.
Getting back to the Lotus Carlton though, it was a real Q Car in ever sense of the word. Okay, yes, it look a little more butch compared to the model is shared its name with, but it was a genuine 285km/h saloon which could hit 100km/h in 5.2 seconds. Figures that even today, 25 years later would be deemed impressive.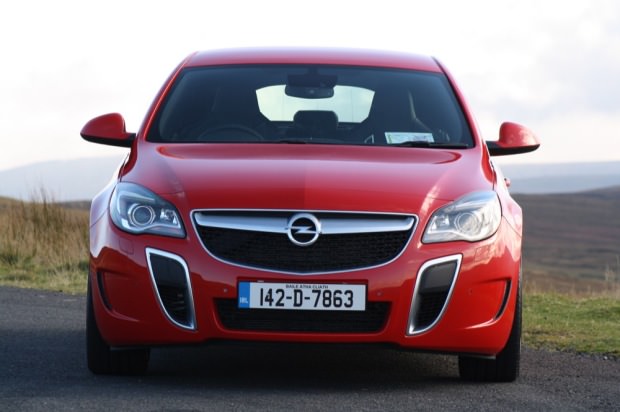 Its equivalent today is the Opel Insignia OPC. Powered by a 2.8-litre turbocharged V6, it churns out a healthy 325hp and 435Nm. It rolls on optional 20-inch wheels and looks the part too. At a glance it's just an Insignia, but to those who know a thing or two about cars it is easily distinguishable from its lesser-powered sibling. Thankfully Opel's stylists and engineers didn't go too over the top with the aerodynamic appendages, but they have mangled to give it a fair degree of presence.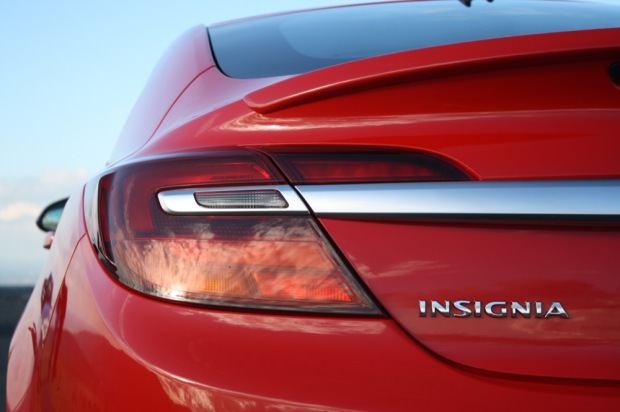 Fire up the engine when cold and there's a hard edge to the exhaust note as it warms up that is intoxicating. You instantly know that this is different. The specification of a six-speed manual gearbox is an added bonus considering so many manufacturers are going down the route of dual-clutch automatic transmissions. Purists will love it but it does expose some flaws which I'll come back to.
The interior is nicely fitted out with some lovely little details namely the reassuringly-supportive seats and a perforated leather steering wheel. New models benefit from the updated dashboard layout which is significantly less cluttered looking than before. Aside from a little bit of OPC badging it's all pretty much the same as what you'll find in any other Insignia.
Not that that should really matter though, after all, this is a driver's car Well, that's what it proposes to be anyway. On paper that V6 engine packs a punch but the six-speed manual combined with a heavy four-wheel drive system does seem to sap some of that power. The Insignia OPC lacks that initial bite you would expect a car with those figures on paper to have. At 1,908kg it isn't the heaviest thing in the world, though you do feel it at slower speeds.
In fact, the Insignia OPC feels kinda lumpy in general low down. Try to hustle it away from the line and despite the presence of all-wheel drive it never quite feels rapid in the same way as say an Audi S3 saloon does. That turbocharger always seems to take a while to spool up due to the gearing and when it does you then get a rush of power delivery that feels far from linear. In stop-start traffic the manual transmission can get a little tiresome and when you do get to wind on the power on a good B-road you're soon left wondering just how much better the car might possibly be with a slick automatic transmission. You do need to go looking for that power at times too. In fact peak power delivery comes in at a 5,250rpm in both horsepower and torque. In normal driving mode 90 per cent of the torque is sent to the front wheels meaning you'll be engaging the traction control all too frequently although the selectable OPC driving mode does redress this by giving a 60:40 front to rear bias.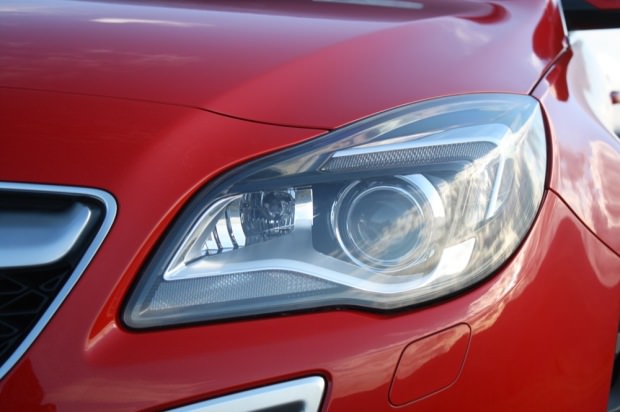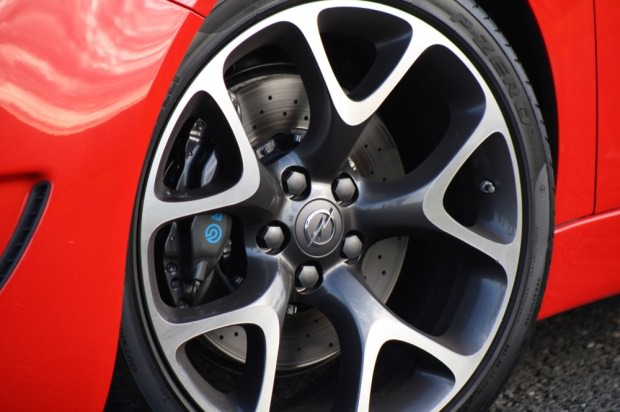 There are some positives to the Insignia OPC too though. The ride is supple thanks to some clever suspension components that Opel claims to prevent any geometry changes when the car is driven that bit harder. Left in OPC mode the steering feels nice and weighty and although the ride is harder it seems to suit the car overall that bit better while the traction control is less intrusive. Helping add to the surefooted feeling of the all-wheel drive system are some grippy Pirelli P-Zero tyres which even in the wet feel sticky. Lurking behind the chunky-looking alloy wheels is an impressive set of Brembo brakes which work well to haul up the OPC.
Overall the Insignia OPC feels far more like a fast bahn stormer than rapid point-to-point car. It is deceptively quick on the motorway whilst its somewhat muted engine note lulls you to higher speeds, such is the sense of refinement inside the cabin. In sixth the engine feels like it is barely stretching its legs which is the only time when you aren't alarmed by having the dash readout displaying the real-time fuel consumption figures. They are, quite frankly, ludicrous. Drive it hard and you can almost watch the fuel gauge move towards zero. If that didn't quite put you off, the eye-watering €2,350 you'll pay in annual road tax thanks to the 268g/km of CO2 it spews out might.
For the €54,295 that you will have to hand over for a new Insignia OPC you will gain membership to what is likely to be a pretty exclusive owners club. The are other, cheaper, and better cars on the market. Objectively it is a well engineered and refined car but it could be made to feel far more exciting and involving with some relatively minor tweaks.
Price: €54,295
Power: 325hp @ 5,2500rpm
Torque: 435Nm @ 5,250rpm
Emissions: 268g/km (Band G – €2,350)