Volvo V40 R-Design – Driven
For many people Volvo has never really been considered the bastion of performance cars, barring the small exception of some lesser-known cult cars. The times though are a changing and a higher emphasis is now being placed on offering models with more of a performance streak running through them. One such model is the new V40 R-Design.
Following the recent demise of the small C30, the hatchback-shaped V40 is now the smallest car in the range but has diversified from the standard model into two sub-models – the Cross Country & R-Design. At a glance they appear to be just slightly different styling packs but in the case of this test car – a V40 R-Design – the addition of the D3 engine means it packs a little bit more of a punch. A more aggressive looking bodykit adds a sense of presence while some AUdi RS-like brushed aluminium effect door mirrors help complete the sportier look. The choice of the almost lurid 'Rebel Blue' may not be on everyone's shopping list but personally I think it finishes it off perfectly.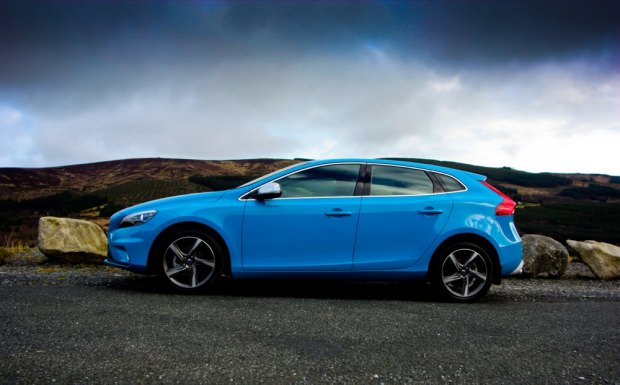 Yes, it is a diesel engine, but don't go thinking of the 'clackety-clack' diesel engines of days gone by – this unit is as refined as you will find in any premium German car and packs a respectable 150hp across a generous rev range. What is in fact more enjoyable is the 350Nm of torque that is on tap and arrives in a wave from just over 1,500rpm. Mated to this particular test car was the 6-speed manual gearbox and while the option of a automatic gearbox is available – which may be slightly nicer to use around town – the Volvo delivers the sort of drive that will make you want to have a proper gearstick in your left hand.
From inside, the ride just borders on the side of firmness but competently deals with poorer road surfaces. The steering does remain slightly numb throughout, but once your mind adapts to that you can begin to be a little more adventurous when driving hard. Noise insulation is one area that the V40 seems to do very well in while the design and layout of the cabin is a blend of modern design and aesthetics. Everyday objects such as the handbrake have a more slender, thought-out look and feel to them, although in right-hand drive form it is a little far from the driver.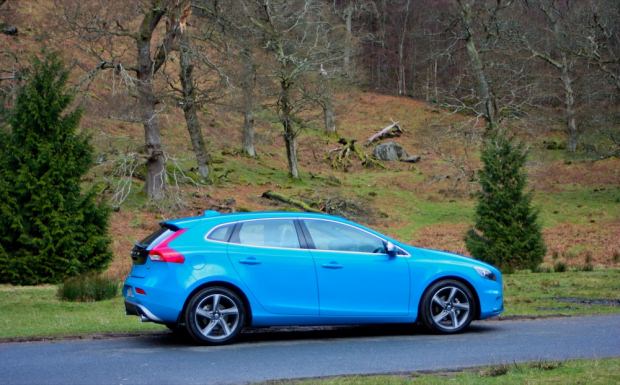 When you do start to push on a little bit more in the R-Design on the right kind of roads the drive is actually quite rewarding. There's a suppleness to the ride that gives the impression that the suspension hasn't just been set to a firmer spring rate to enhance the sporting feel, rather it seems to be damped more like one would expect of a slightly more premium car.
As is now a familiar design signature in Volvos, the floating centre console is does appear busy with a cluster of buttons which even after a week of driving aren't the most intuitive to use. Partly due to the multitude of systems that are now available on the V40 – many of which are safety related. Blind Spot Warning systems, automatic braking at low speeds and airbags for pedestrians as well as occupants are just some of the vast array of safety features on the V40, some of which though are still only optionally available.
Volvo may not yet offer a fully hot version of the V40 just yet, hints of a Polestar version remain just that, but on appearances at least the R-Design looks like it packs a punch.