Crazy Renault Twin'Run shown
Renault couldn't have picked a more glamorous (or crazy) place to unveil its latest concept than the Monaco Grand prix weekend. Called the Twin'Run, it is built on the same tubular chassis as the Mégane Trophy racer and is powered by a mid-engined 320hp V6 and proving that it wasn't just some motor show mock-up, it ran several laps around the Monte Carlo street-circuit over the weekend.
The chassis was developed entirely by Tork Engineering. The ground link is provided by front and rear axles fitted with double-wishbone suspension with independent pivots. The four pivots, in solid aeronautical quality aluminum, deliver high performance on the track. For filtering and body stability, Twin'Run is fitted with OHLINS spring shock absorbers at the front and rear. Axles have an anti-roll bar with a diameter of 22 mm at the front and 25 mm at the rear. Roll is perfectly controlled for agility and responsiveness. The aluminium wheel covers feature a special hub with a central bolt that can be dismounted in three parts and fit 18-inch Michelin tyres.
The Twin'Run might be a whacky concept but it is made up of a mid-engined tubular chassis draped in lightweight glass-poluester composite bodywork. The front spoiler, roof, rear vent and wheel-arches are constructed from super-strong carbon fibre and help give the car a 43/57 weight distribution.
Rally champion Jean Ragnotti was involved in the final tuning of the chassis system of Twin'Run. He shared his impressions with us while taking a look back at the R5.
"Following this first drive, I'd say that this is a sound car with a strong pedigree. It's easy to control. You can feel straight away that it's a sports car. In terms of balance and ride, it brings the R5 Turbo to mind to some extent.
The gearbox is smooth and you've got powerful brakes. Excellent traction with a responsive engine delivering full power at all revs, rounder and with more torque than the R5 Turbo, making it particularly efficient and easy to drive, unlike the R5, which required more technique.
It's definitely an efficient car with surprisingly good vertical comfort, including in zones of high compression where we're still a long way from the travel stops.  All we need to sharpen our attacking edge a bit more are racing tyres. There's a slight roll but no understeer. A gradual performance, no surprises, taking corners easily. This concept car is a worthy heir to the Maxi 5 Turbo."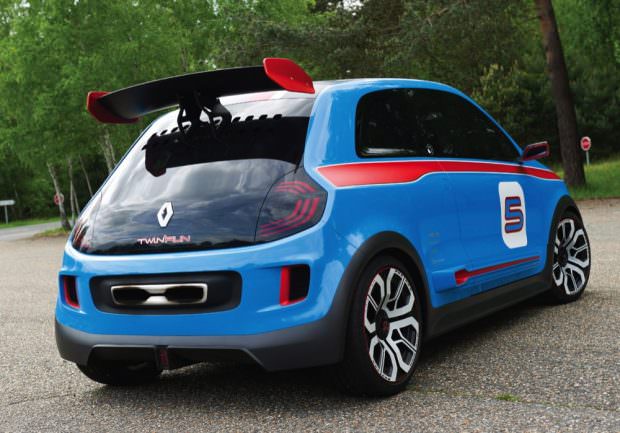 Despite being shown alongside other famous small mid-engined Renaults like the Clio V6 and R5 Turbo, the Twin'Run gives more of an insight into the appearance of Renault's future city car. With its compact body and wheels set right out to each corner of the car, the Twin'Run should make for a practical city car when it does come in the future.