Irish success at the AMD Custom Bike Building Championship
The 2013 AMD World Championship title was taken by Ireland's Medaza Cycles' creation "Rondine". Don Cronin and Michael O'Shea, the two Cork men responsible for the build created a one-off frame to carry the single-cylinder, 1971 Moto Guzzi Nuovo Falcone 500 engine. They were also responsible for hand-forming the aluminium bodywork and the heavily modified V-Rod swingarm, which is used as a girder style front fork. The Irish Duo qualified for the competition by taking top honours at the international open qualifiers at the 2013 Carole Nash Irish Motorcycle and Scooter Show in Dublin last March.
Alongside Ireland taking the top honours in the AMD World Competition another Irishman, Noel Connolly from Galway, took 16th place in the Freestyle Class with his sidecar outfit called The Chieftain.
Among the power units being employed by the 105 competitors were not only American V-twins, but also Italian singles and V-twins, Japanese multis and singles, a diesel, an engine from a Honda generator and even a 1920's boat engine.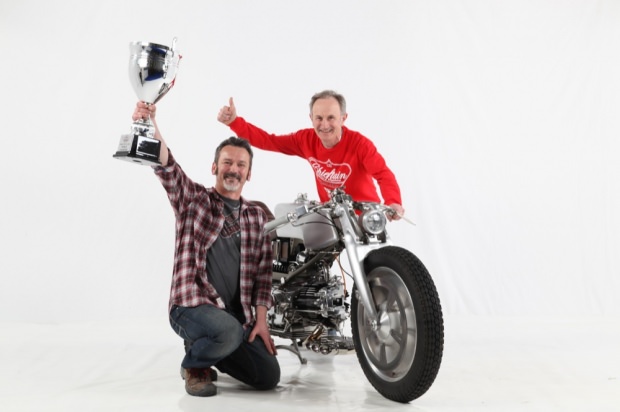 Ruth Lemass, Organiser, Carole Nash Irish Motorcycle and Scooter Show, said: "The significance of this World Championship win for Irish custom bike building cannot be underestimated. Thousands of entrants from around the World went through a series of qualifiers and were eventually whittled down to 122 machines representing 23 countries. The fact that an Irish bike has won is fantastic and shows how far advanced our custom bike builders are on an international stage."