Spinning The Rear: Moto GP – Qatar
Round 1 – Qatar GP
2013 is finally upon us, and after what seems like an eternity of testing, washed out testing and pointless reveals of "new" colour schemes, the MotoGP circus rolled in Qatar for Round 1 of the 2013 MotoGP World Championship.
Changes for 2013? Yes. Qualifying, Dorna have decided it was much too boring and they needed to jazz it up to get more advertising dollars people to watch it. It's quite a straight forward process involving 3 sessions of qualifying.
First up, everyone gets to go in Qualifying Practice 1 (QP1), which has been renamed as Free Practice 4 (FP4), though it's not free and you have no time to practice. During the practice, you now have to qualify for QP3 which is renamed as QP2, or else you'll end up in QP2, which has been renamed as QP1. Got it yet?
If you end up in QP1, its means you are probably on a CRT bike or you have inexpiably blagged a real MotoGP ride despite the previous dubious results (see the Life and Times of Bradley Smith). However, if you are a Sagittarius, like the colour purple and can do a handstand, you can be 1 of 2 riders who will qualify for QP2(maybe).
Then you have QP2 which was really the old QP1, but is actually QP3 in which you finally get to see actual MotoGP riders, ride actual qualifying laps. Can't wait for it.
So in the smorgasbord that is now qualifying, many people rode around in a very confused manner and I believe Jorge Lorenzo (Team Yamaha) managed to be the fastest of them all, narrowly nudging out STR fav Cal Crutchlow (C2)  on the Tech 3 Yamaha.
Race time. The lights went out, but only some of them as it was been run at night, under floodlights so the delicate people in Europe could enjoy MotoGP with their afternoon tea, whilst the poor souls south of the equator (that's half of the world for this "world championship" by the way) pulled themselves up at variously ridiculous am's in the morning.
Off at the front unsurprisingly was current world champ, Lorenzo. Chasing him frantically into the first turn were hard charging C2 and the Repsol Honda pair of Dani Pedrosa, and new kid on the block Marc Marquez, who I swear carries more lean angle than a protractor. As they battled and took chunks out of one another, two races were developing. One, the clinical brilliance of Lorenzo as he eeked out his lead lap after lap, and that of his Yamaha team mate, the almost magical Valentino Rossi.
Rossi spent the last 2 years on the fetid pile of failure that was the DucatiGP bike. Despite his talent, and the skills of Jeremy Burgess and co, they could not get results. So with heads low, they crawled back to Yamaha for 2013 to see if they could have one more shot to run at the front of the GP circus.
Qualifying in 7th wasn't a good start and running wide at Turn 1 wasn't good either. Though he was so close to the Ducati of Andrea Dovizioso at the time, I'm surprised he didn't run right off the track and straight out of the country.
Rossi was now back behind the very likeable, but very German Stefan Bradl on the LCR Honda who was firmly placing his beach towel on 5th place and was reluctant to move his schnitzel from that spot. By the time Rossi got by, he inexplicably moved the towel to the gravel trap, dumping the LCR at Turn 7. At this stage, Crutchlow and Co. were 3 seconds ahead. Game over for a podium right?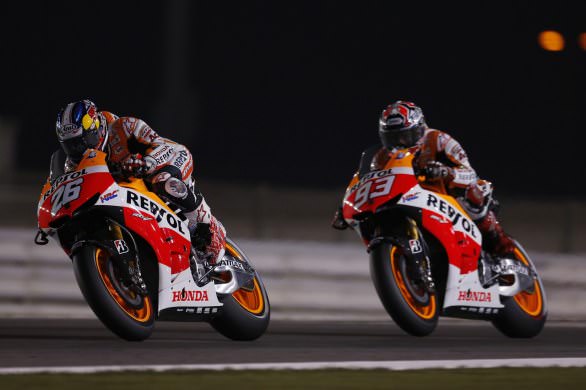 Wrong. Like a kid in a candy shop Rossi gobbled up the seconds and breezed by a noticeably underpowered C2 before easily riding up the inside of the microscopic Pedrosa. With 2 laps to go, Rossi made his move on Marquez. Marc may be a rookie to GP, but he must be packing one hell of a chorizo, because he was straight underneath Rossi again to retake the position. Over the next lap and a half, it was elation stations with the pasta and paella being chucked around as the two battled for the last 2 podium spots. Eventually, it was Rossi who would take the win, with a smile that was even bigger than Lorenzo's winning margin. In fact, on the podium and the press conference, there were so many smiles, I felt like I was watching the upside down version of the Malaysian F1 podium.
At the CRT end it was once again the Aspar Aprilia duo of Aleix Espargaro and Randy DePuniet getting the 1 and 2 positions in the "other" race.
Next up is a new GP at the American Circuit of the Americas in America, f**k Yeah! I can't lie, after seeing this race, I so excited I might wet myself.
Don't forget to follow @JohnnyKCarr