Opel ADAM – Irish Press Launch
The new Opel ADAM is set to bring a whole new level of cool to the Opel brand, and we got to be among the very first to drive it on Irish roads. The initial thing most people have brought up is the name – ADAM. It might not be the most conventionally name for a car but there is a meaning behind it. It's named after the company's founder Adam Opel.  The second question on a lot of people's minds is where exactly does this car sit in the range?
Well, seeing it in the metal does set it apart more from the Corsa which is the car that the ADAM shares its platform with. It is proportionally bigger than the Fiat 500 though it does have a similar side profile but it is slightly smaller than the likes of an Audi A1. Opel have taken the decision to offer just one engine with the Opel ADAM – a 1.4-litre ecoFLEX (100hp) – which is paired up with a 5-speed manual gearbox. This places the ADAM in tax band A4 (€200).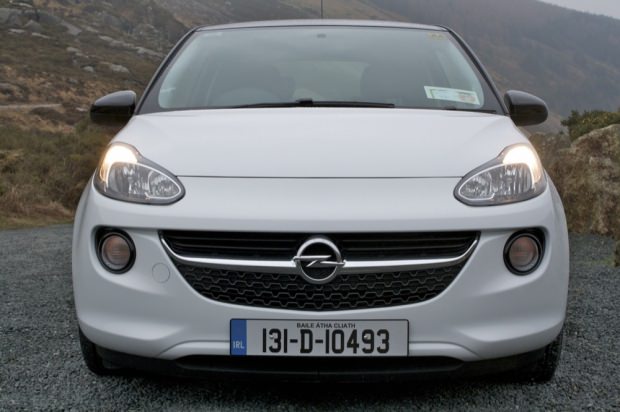 The choice of just one engine leaves way for more decision time on how you may want to spec your ADAM up. There are three main trim levels that are called 'Jam', 'Glam' and 'Slam'. To be fair to Opel, despite the names, they have given a fairly generous level of features with even the basic Jam trim line. This car will start at €14,995 but includes 16-inch alloy wheels, air conditioning, bluetooth and cruise control. The next step up is the Glam which is a €2,000 price difference and includes a glass sunroof, LED daytime running lights and upgraded alloy wheels which overall help give it a slightly more sophisticated look and one that is aimed to appeal more to the style-conscious buyer. The  ADAM Slam is also priced at €16,995 and is a sportier looking proposition. It wears 17-inch 'Hurricane' alloy wheels, a two-tone roof pack, climate control and sports suspension.
After all that you still have a mind-boggling array of different options to help style an ADAM specifically to your liking. Opel say there are 60,000 exterior combinations and 80,000 interior combos. The interior does mark a step-change for Opel as it now looks and feels more upmarket. If buyers opt for the €350 IntelliLink infotainment system the centre console becomes dominated by a 7-inch colour touch-screen display which can host all of your media via bluetooth or the USB port and can be controlled by the multi-function steering wheel.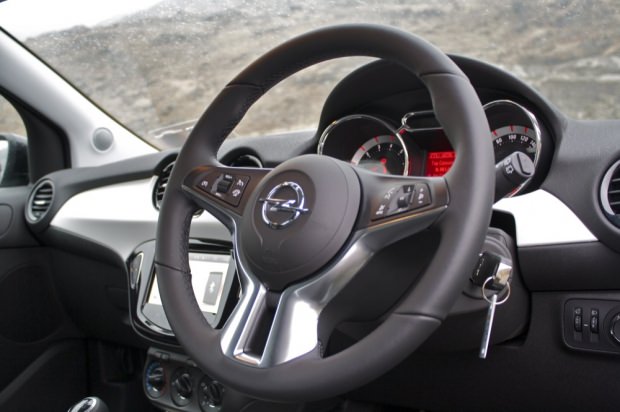 Taking to Irish roads in the Adam demonstrates a car that isn't just purely about looks. The car is certainly setup more for city driving but the suspension seemed to cope well with some of our nation's poorer road surfaces, if anything it was probably a little bit soft although the opportunity to drive the Slam's sports suspension didn't arise. That said it does feel less skittish compared to the likes of Fiat 500 and overall feels like a solid enough car. The engine has ample power for a car of its class although the lack of engine options may put some customers off. Sporty drivers might not like the 1.4-litre engine but keeping it higher up the rev range does allow the ADAM to cover ground in a timely fashion.
On motorway stretches the ADAM is relatively quiet and refined and while the engine is adequate for cruising speeds although being geared more for city use does see it sit slightly higher in the revs due to the lack of a sixth gear. Being a city car does of course bring limitations both to boot space and rear passenger legroom. Boot space comes in at 170 litres but the 50:50 split rear seats do fold down very easily to help that grow to 663 litres. The rear seats will fit two full size adults but legroom is tight, while alternatively there are also two ISOFIX points in the back. The Opel ADAM is available to order now and as it is built in their German plant, Opel claim that the delivery time, even for the whackiest of spec, will be only 5 weeks.
Like this story? Why not Like us on Facebook here