Kia Provo – what is that fuss all about?
The striking Kia Provo caused a great deal of attention at the Geneva Motor Show although Kia may have wished it was being talked about for slightly different reasons. The Provo name, which is a play on the Italian word prova, meaning prototype, caused a stir amongst the more pedantic sections of Northern Irish communities. So much so in fact that it was brought up in the British House of Commons and led to Stephen Kitson, Kia UK's corporate communications director to say ;
"This car is a showcase, it's a little bit of frivolity, it's for a motor show in Switzerland designed by an Italian at a design studio in Frankfurt," he said. "The name of the car is chosen for its debut by the designer."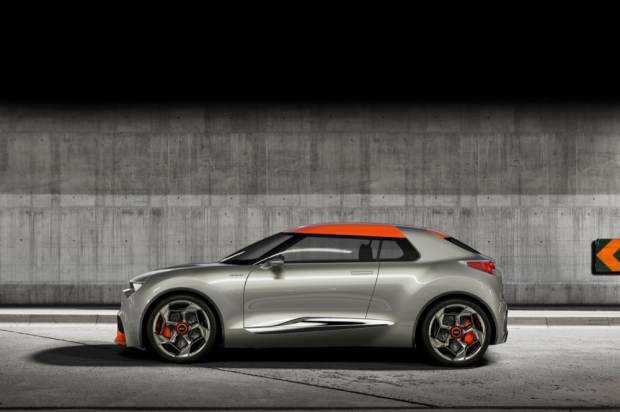 What about the car itself? Well its low, sleek but muscular look gives he hatchback a pretty aggressive stance and look. It has a sporty look while showcasing some very cool technological details like the tiny clusters of LED lights that make up the  headlights.
The wrap around windscreen helps to hide the A pillars and combined with the frameless doors give it an almost visor-like appearance. As for the inside, designer Guillaume commented: "The interior is very, very black – as we believe it should be to allow drivers to focus on the experience.  But we have also looked to make the functional aspects of the car fit the modern demands of today's motorists." Completing the moody cockpit feel are tiny red LEDs set in the multi-layered doors, in the air vents and also in roof to give a low-glow ambient illumination.  The roof panel also incorporates aluminium window toggle controls.
The concept is powered by a 1.6-litre Turbo GDI engine producing 204 ps with smart-4WD-hybrid technology from an electric motor delivering an additional power surge to the rear wheels when required and also allowing low-speed electric-only motion.  A seven-speed DCT transmission – Kia's first – completes the impressive technical package.
While Kia have no plans to put this car into production, it does show that they are paying more consideration to the sportier side of the automotive market. The arrival of the Kia pro_cee'd GT later in the year marks the start of Kia's more performance orientated cars. A move that is very much welcomed by me.
See the full gallery here