New Volkswagen Golf GTI to arrive in summer
There are few names in the world of motoring as well know or loved as the Volkswagen Golf GTI. It is now 37 years since the first Golf GTI appeared and although the world has moved on in many way the latest GTI is still as relevant and appealing as it first was. Power is a modest 220 PS and with 350Nm of torque the GTI might not be the maddest of the latest breed of hot hatches but in many ways demonstrates Volkswagen's more mature approach.
Powering the new Golf GTI is Volkswagen's 1.4 litre four cylinder turbocharged petrol TSI engine. Its a relatively rev-happy engine, developing most power between 4,500 rom and 6,200 rpm. Yet it will also be more fuel efficient, 18% better than the last model, helped partly by a Stop-Start system as standard. Volkswagen claim fuel consumption is just 6.0 l/100km and emissions of just 139 g/km all of which places it in tax band B2 (€280).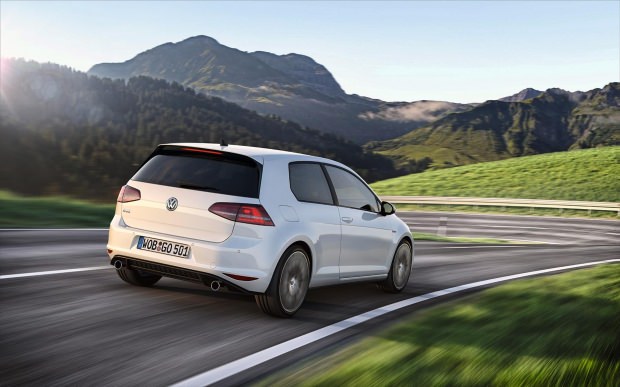 Naturally there is the option to equip the Mk7 Golf GTI with a 6-speed dual clutch DSG gearbox. This enables drivers to choose whether to drive in fully automatic or semi-automatic mode via either the gearstick or the steering wheel mounted paddle shifters. Buyers can also choose to buy a GTI Performance spec which comes with an additional 10 PS of power resulting in a slightly higher top speed (250 km/h) and helps it complete the 0-100 km/h dash a tenth of a second quicker.
Visually the new Golf GTI is almost passive aggressive in its styling. There aren't huge rear wings or massively flared arches but then again that's never been the GTI's style. Instead Volkswagen have given the GTI a sporty look which is helped by its 17-inch 'Brooklyn' GTI wheels, beefier sills and unique rear diffuser. Other visual touches include two chrome-tipped exhausts, smoked LED rear lights and red-painted brake callipers.  And of course there is that iconic tartan Golf GTI interior.
The new Golf GTI is expected to be on the road in June with prices starting at €33,595.