SEAT have released images showing the three door version of their new Leon – the Leon SC (sports Coupé). The sexy new three-door is graced with some very good looking angles and embodies SEAT's latest 'arrow face' design language. The overall looks and stance of the new Leon demonstrates a sleek and sporty image which SEAT hope will appeal to a younger buyer.
The new SEAT Leon SC will come with plenty of technology on-board including what SEAT claim is 'a perfectly tuned chassis' as well as offering the latest in safety and engine technology. The engines on offer are expected to range from 1.2 to 2.0 litres split between TSI (petrol) and TDI (diesel) and should deliver power from 86 bhp to 184 bhp. SEAT will have been working hard to keep their emissions down and should have some engines putting out as little as 99 g/km. The highlight of the petrol line-up will be a 1.8 TSI delivering 180 HP and 250 Newton metres and is due to be available during the course of 2013. The diesel range is completed by the 1.6 TDI with 66 kW (90 HP) and the new 2.0 TDI with 135 kW (184 HP) and 380 Nm.
Transmission will come in the form of either a five or six-speed manual depending on engine type and there will also be an automatic gearbox, which will come in the form of a lightweight DSG dual clutch system offered with certain engines. To further reduce emissions a freewheeling function will be integrated into some versions which help to further reduce fuel consumption when off throttle.
Inside SEAT designers have worked to make good use of space to create a bright and spacious interior which they claim is ergonomic and intuitive. Speaking about the interior, Alejandro Mesonero-Romanos, Head of SEAT Design, says: "We used ergonomics as the benchmark in designing the light and elegant interior, orientating our thinking around the precision of an aircraft cockpit. The driver of the Leon SC has no unnecessary distraction and can concentrate fully on driving."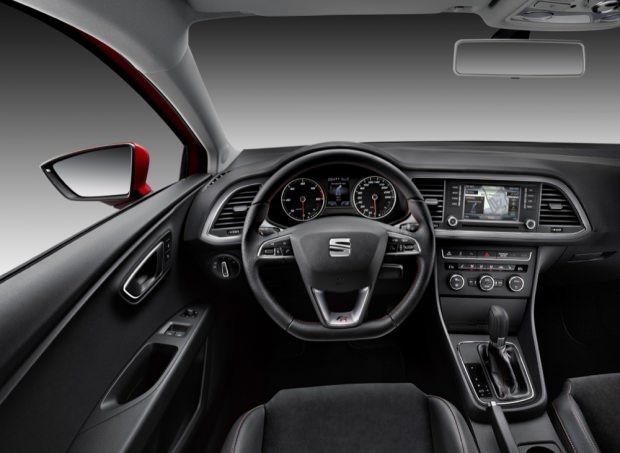 "The new Leon SC is the design icon of the model line-up. It conveys perfectly the core values of the SEAT brand – design and dynamics, technology and quality, all at a fair price," says James Muir, President of SEAT S.A. "The story of the new Leon is very closely tied to the sheer fun of driving – without the driver having to sacrifice a high level of everyday usability. We have remained true to this successful principle for the Leon SC, too – and have refined it ever further in all key areas."
View our full image gallery of the new SEAT Leon SC on our Facebook Page
UPDATE: Seat Ireland have confirmed that prices will start at approximately €18,500 and will be on Irish roads in July. Just in time for the new 132 plate!