Audi may have an ever-expanding range of cars filling an ever-growing variety of niches but when it comes down to it they still have a core range of very successful cars. These are the 'older, more established' models, one of which – the A3 – has long been one of Audi's biggest sellers. The A3 has always been an excellent all-rounder for the guys from Ingolstadt. It sells well in built up locations thanks to its small size, it sells well to people who want to get their foot on the first rung of the Audi ownership ladder and it sells well to folk who may be purchasing a second Audi 'for the missus'. I could go on and on but I think you're starting to get the idea.
The A3 fulfills a number of roles for Audi, so naturally, as with all benchmark products, when it came to updating it Audi may have had some head scratching to do. You don't want to divert too far from the winning formula but you also need to make it different enough for people to want to change. Its a tough one.
Interestingly those boffins in Audi have made a whole new A3 that is now significantly lighter (80 kgs) thanks to greater use of lightweight materials for the front wings and bonnet. Dimensionally the new A3 gains a longer wheelbase (up 23mm) thanks to utilising the new Volkswagen Group MQB platform which allows for more design versatility. Overall length and width remain very close to the previous model and despite being instantly recognisable as the A3, the new design by Irishman David Caffrey gives the A3 a much sportier and taut appearance.
The completely redesigned interior gives a much fresher feel and offers a clean and simple design that really works well. The standard of finish and use of materials is high even for this premium class. Standard across as trim levels is the ultra-thin electrically retractable MMI monitor which previously was only standard in far higher models in the range. Space between the front seats is freed up with the introduction of an electromechanical parking brake and now plays home to the optional MMI operating system terminal. Other standard features across all trim levels include a leather multifunction steering wheel, 16" alloy wheels and air con, so Audi are ensuring good value for money all-round. Ergonomics from the driver's seat are excellent and visibility front and rear is as your would expect while the only downside is the rear passenger legroom which is still a little limited.
A whole variety of engines will be available under that new aluminium bonnet. My car was powered by a 2.0 litre TDI in-line four cylinder diesel which produces 148 bhp and a very healthy 320 Nm of torque from just 1,750 rpm. All that torque allows the A3 to pull well from virtually no revs even in second and third gear while cruising at motorways speeds remains a calm affair. The suspension which is made up of a McPherson layout with wishbones up front and a multi-link rear setup which absorbs longitudinal and transverse forces independently gives a comfortable ride while the electromechanical power steering is well weighted and gives the driver good feedback.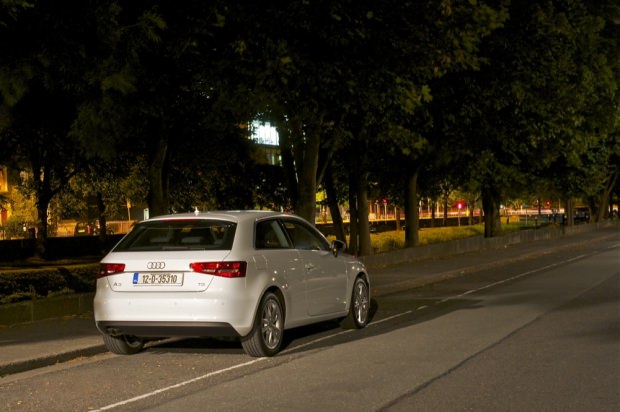 Does the new A3 live up to the ever-increasing expectations of a Premium A Segment customer? I would have to say yes – even in the lowest of trim levels it offers superb quality and despite being on the lower end of the Audi family scale it still has no less of that well engineered Audi feeling. The three door may not be the most practical, the Sportback offers much easier access to the rear and with a proper A3 based saloon scheduled to be unveiled during 2013 the latest generation of A3 looks like it is set to repeat its past success.
Test Drive Distance: 347.3kms
Road Tax band: €160
Price: From €25,900 (€32,268 as tested)
Available: Now
For more images visit our Facebook page here
Got a question? Tweet Dave – @lordhumphreys