Spinning The Rear – MotoGP Race Report – Aragon
Ok, so I'm still a little hung-over from the crazy GP we had at Misano. With the clown-like carry on for the boy -like Pedrosa and the mind altering realisation that a Ducati had podium'd in the dry, I was really pumped for Aragon.  Now this is another Spanish circuit in our "world" championship, but it's new and it's a good track. Most importantly, it sounds like you are talking like a pirate when you say it. Now come and tell me you are not thinking about ships and Kiera Knightly right now as you say "aaarrr, tis another chance to laugh at Bautista!"
I'm not going to attempt any silly Spain + Rain similes but needless to say the practice days were completely useless as it teemed from the heavens. You'd swear we were having the GP in Ireland to make Johnny Rea of Repsol Honda feel a bit better. He wasn't a happy bunny. Like the rest of the paddock the wet weather made for very little setup for what was almost certainly going to be a dry race. In the end qualifying was a predictable affair with the championship leaders of Jorge Lorenzo of Team Yamaha and Dani Pedrosa of Repsol Honda trumping all. Lorenzo grabbed the top slot from Pedrosa, both of whom only just edged out a flying Cal Crutchlow from Tech 3 Yamaha who grabbed third again.
Onto Sunday and there it was – the big shiny ball of light drying out the track. I was camping at the weekend and I found out the rain + camping = a sucky Sunday. I also know that rain + MotoGP = Awesome Sunday. So with trepidation I watched the lights go out and it was pole sitter Lorenzo that shot off to an early lead with mini-P following and Texan superstar Ben Spies jumping a rather lazy looking C2 off the start line. Also getting one over on blighty was Stefan Bradl on the LCR Honda who thundered by Cal and then Spies to run into the third possible podium position. However, Bradl was feeding a little too much dunklebrau to the front pretzel and went skittering out. At least he had a good excuse to hit up Oktoberfest early, einfachklasse!
With a little less humour, Nicky Hayden had a horrific crash where he was ejected from the uncontrollable Ducati and over the advertising hoarding at Turn 16. Thankfully he emerged and we would soon find out that he was ok. He may still have some lingering injuries and we at 50to70.com wish the Kentucky Kid the speediest of recovery's.
In another type of recovery mode Nicky's Ducati team mate Valentino Rossi found himself pushed very wide at the start by GP newcomer Rea and found himself wobbling around with the CRT bikes. Rossi would spend the entire race trying to salvage his position, eventually finishing 8th, but far from the glorious spectacle we got last race.
With the riders going down like skittles it was the ever entertaining Tech 3 duo who came to the party once again by tearing chunks out of one another and any Yamahas in their way in a bid for podium glory. First to go was Ben Spies. The factory Yamaha had great pace at the start but as the race wore on Ben was struggling more than Bautista's contract negotiations and was easily taken by Andrea Dovizioso, and with 5 laps to go, C2 came by too. We've seen this movie reel before only this time Cal had learned some lessons and was very aggressive as soon as he regained contact with Dovi. Cal managed to dive on the inside a few times but Dovi was slicker than a Roman hairdo and was able to regain the position every time. The side by side action was thrilling to watch with the Italian finally claiming third.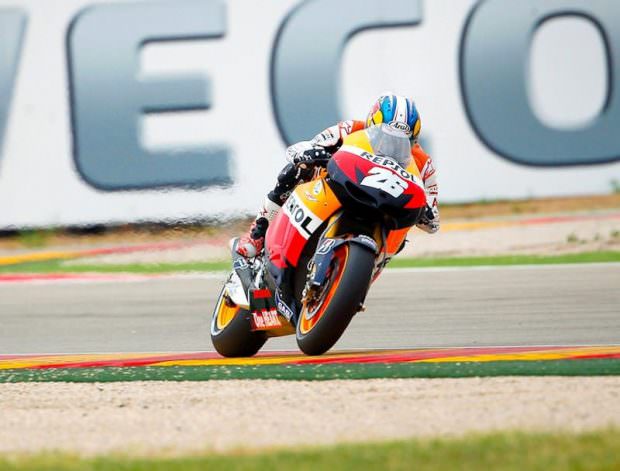 Up at the front surely we were set for another epic duel? Well, we weren't. Pedrosa passed Lorenzo on the 7th lap and that was it. No excitement, no last lap duel. I was furious. Luckily for me, the tv I watched the race on had a protective screen (it was at a campsite) and therefore was protected from my flying drink can which I hurled in frustration. STR does not appreciate dull finishes!
At the CRT end of the field, Aleix Espargaro on the Power Electronics Aspar took the top CRT honours. But the most entertaining CRTs were actually James Ellison of Paul Bird Motorsport and Avintia's Yonny Hernadez (a 50to70.com favourite) as they duked it out for 13th. I would normally insert a very dry joke here, but with the awful front runners I found this battle kind of enjoyable. Like the way watching the fainting goats on YouTube is enjoyable.
Rider of the race goes to Andrea Dovizioso who produced another fabulous display on the Tech 3 bike and provided us all with some great battles with both of his Yamaha brethren. For an Italian he is catastrophically boring to listen to, but you've got to admit he is good to watch on a bike!
Winners and Losers
Dani Pedrosa
Needed to win. Went and won. It's all he can do while he hopes for some disaster to befall Lorenzo. A solid job by the teeny tiny racer, he even had a big smile, like a kid who just got Fifa 13 for his birthday.
The Audience
I'm sorry, but we all lost. I had to extricate myself from a very enjoyable party to watch a not so enjoyable procession of 2 Spaniards slowly boring me to death. Must do better MotoGP!
Next up is Motegi and this is generally a brilliant race. I need it, or at least 3 red bulls!  I'll see you there.
JohnnyC