In today's modern technological era, where is the acceptable trade off between form and function? As I sit inside the cockpit of the Citroen DS5, I find myself asking this very question. And I use the term cockpit specifically, as it is wrong to simply refer to the inside of a DS5 as an 'interior'. I have sat in thoroughbred supercars that don't have interior design that could rival the DS5. It is simply stunning.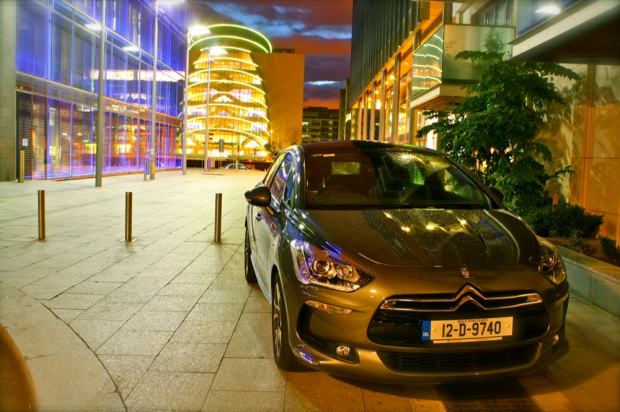 The extent at which Citroen have gone to from a design perspective with this car is both impressive and extremely refreshing in a world that sees creative homogenisation becoming the norm. To walk around the DS5 is, in a way, a visual treat for the eyes. It has a cacophony of lines yet doesn't appear to be overly busy but also manages to retain a very fluid appearance. Yes, that may sound poncey, but this really is a visually stunning car and something that Citroen should be incredibly proud of.
"I have sat in thoroughbred supercars that don't have interior design that could rival the DS5. It is simply stunning."
Physically it is larger than it would appear and certainly maintains a presence on the road, boosted no doubt by its ability to dazzle other road users. With an overall length of 4530 mm, it's almost the same size as a BMW 5 Series and bigger than a Volkswagen Golf. The bootspace may not be cavernous at 465 litres but should be enough for the average user.
That spectacular interior is designed to seat five, but feels like it is better suited to being a 2 + 2, and despite its overall size, rear legroom isn't as generous as one would expect in a car that looks and feels this premium. This is where I start to question the balance between form and function. From the driver's seat it's clear to see that everything is focused around you. The centre console is surprisingly high and although most of the controls are sculpted to give a real bespoke feel, you do end up with very little free space. Yes there is a fairly large storage compartment in and under the centre console, but it would require you having to find things based solely by touch alone. I also had nowhere to place my über expensive trendy coffee cup – a major faux pas, as if I'm driving a car this cool, I'm certainly bound to be posing at nearby coffee shops.
My second, and substantially bigger gripe, is what Citroen have done with the suspension setup of the DS5. Dynamism is a term that is bandied about by manufacturers rather a lot these days and for many they seem to think that this means firm and sporty suspension. Couple this with very cool looking big wheels and low profile tyres and it's a wining formula. Visually – maybe, but in reality I found the ride in the DS5 to be just too firm. I know many will say that if you want a car to be cool and sporty it must have suspension like this, but had Citroen stuck to their roots and applied some of their past hydro-pneumatic plushness to the suspension department they may have potentially created one of the coolest cars of the decade.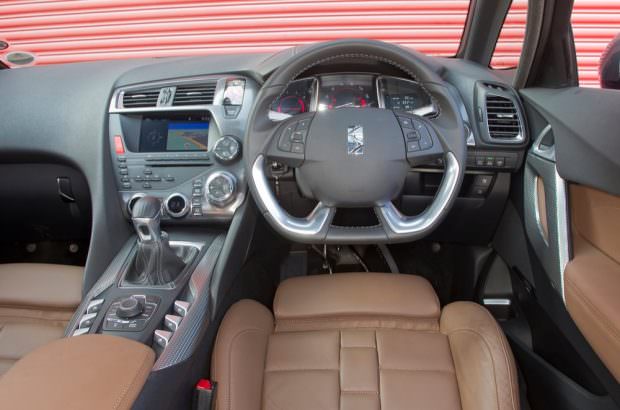 "the DS5 is a car that many will fall instantly in love with and want to own"
In the engine department, the 2.0 litre diesel that powered my test car was both powerfully and economically sufficient and in manual form gives back a pretty decent drive. There is also an automatic gearbox option available.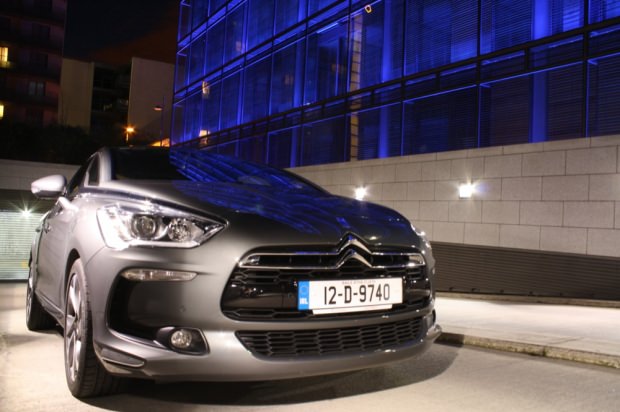 Tech lovers will also find comfort in the DS5 as it is crammed with features like a lane departure warning system that vibrates either side of the seat depending on which lane you're drifting into. Other features include electric handbrake, reversing camera (needed due to the very limited rear visibility) as well as three separate glass roof panels – one over the front passenger & driver respectively and one large one for the rear passengers. In the drivers hand sits a flat bottomed steering with metal like cladding behind which are three display panels that make up the dash display. One other neat touch in contrast to the futuristic interior layout is a nicely crafted clock face set into the dash.
Overall the DS5 is a car that many will fall instantly in love with and want to own. As I said, it is not without it's shortcomings, but these are things that I feel many will happily compromise over, despite its €40,400 pricetag. I do fear it is a car that may be a little too radical for mainstream buyers which is a shame moreso that the buying public seem to fear anything that is a little beyond the norm. I just find it slightly frustrating that Citroen have made this a good car, though they could have made it a really great car.