Volkswagen Polo 1.2 – Driven
Normally when a car manufacturers PR person calls you to say "I've got something new for you to try out" I get a little bit excited. Volkswagen's man in charge of this department is a proper bone fide petrolhead, so when he's excited about something it's usually a good thing. But when he says he's got a new Polo for me to form an opinion on I did begin to think that perhaps he was slightly losing his passion. That was until the nice delivery man pulls up outside in what has to be the finest looking Polo you'll probably ever see. And no that last sentence is not meant to be read with a strong infusion of sarcasm.
This new Polo that is now sitting on my driveway has had more bodywork enhancements than a Beverly Hills housewife yet unlike the aforementioned Beverly Hills housewife this has all the right bits in all the right places. Across the road teenage boys stop in their track(suit)s and give what I can only perceive to be a form of approval while my thirty something father of two neighbour wears that look that blends envy and regret all in one.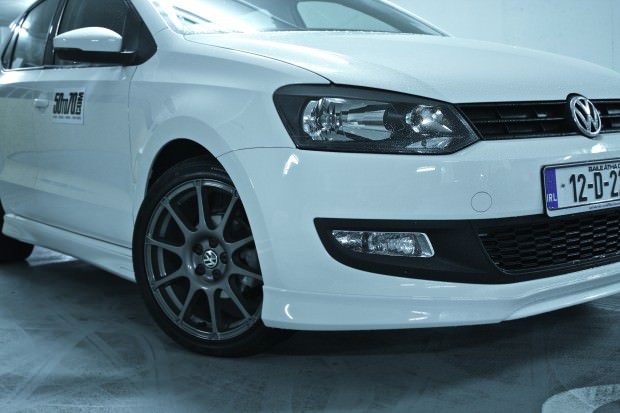 The gun metal grey rims look like they could have been stolen straight from a DTM racecar while the front & rear bumpers complimented by the beefed up side skirts give a relatively innocent car a very healthy dose of presence. Yet this isn't a fire breathing octane snorting beast. Twist the key and you'll hear a rather chirpy thrum from its 1.2 litre three cylinder engine with a nippy throttle that is reminiscent of a small Italian city car. The temptation to only change gear when the engine's valves tap the bonnet must be resisted.
Inside it's all very normal and ergonomically efficient as per German legal requirements but you find that it has all that one would need in a car of its class. Given the relative lack of cc's the three pot engine still gives a fun drive and even without the 'check me out' bodykit and wheel combo – a €2,495 extra in this case – results in what is a fun sized fun car. Two full size grown-ups will fit in the back while three should only be recommended if everyones good friends while still leaving a modest boot space.
With cheap road tax and decent fuel economy of 43 mpg (combined) the Polo might not quite be the Nürburgring menace that it's exterior might portray but it definitely ticks a lot of real world boxes for me. And I'm quite fussy.
Test Drive Distance: 247.5kms
Road Tax band: €225
Price: From €15,590 (€18,085 as tested)
Available: Now
For more images visit our Facebook page here
Got a question? You can tweet Dave – @lordhumphreys