Abarth 500 Cabrio – Driven
I like when form and function work together on equal levels. I like the way my iPhone 4S looks in my hand and the way it does everything I ever need to do while on the go. I love the simple design of those Nespresso capsules and how easy and simple it is to make a really nice coffee with them. And I love the near perfect blend of cute meets aggressive styling of the Abarth 500 Cabrio and just how much of a f*%king great drive it is.
At this point I need to make a full and honest disclosure: I love the Fiat 500. From its most basic incarnation right up to this I think they're a simply gorgeous design. I first drove one back in 2009 at a friend's wedding in Florence. It was a 1.2 petrol and I couldn't get over how economical it was. Skip forward to 2011 and I drove the diminutively engined 500 TwinAir which I found to have more character than any little car should. Its 875cc engine was ace. Later that same year I ran a stripped out Abarth race car in the Cannonball Run where it made a lot of new friends and gained the slogan 'The little car that bloody well did'.
It took some persuading, particularly as this was the only one of its kind in the country but (very) reluctantly Fiat's PR Man handed me over the keys to 'his baby'. Had I asked for him to hand over his children I think he would have done so more quickly. Only one condition came with the car – don't kerb the wheels. Multi-storey car parks would be avoided so.
I'm no stranger to the 500 in its various forms but this Abarth 500 Cabrio may just be the perfect blend of everything. The 1.4 Turbo charged engine is a really lovely engine for its size, offering just as much power as you'd want in a car with such a small footprint.  The 17 inch wheels are pushed out to each corner and really do fill up its arches nicely giving the car a really nice squat look on the road.
The steroid filled bumpers complete the look and as I walk around to the rear I spot what is probably the finest specable addition to this car – the Monza sports exhaust, a pinch at almost €1,000, and genuinely worth every single cent. This isn't boy racer chic either by the way. The Abarth actually looks rather upmarket, certainly more Sorrento Road than run down housing estate. That's the nice thing about the Abarth, it looks like it rolled out of the factory this way (well, yes I know it did), but like it was originally designed this way. None of it looks like some badly fitting body kit add on.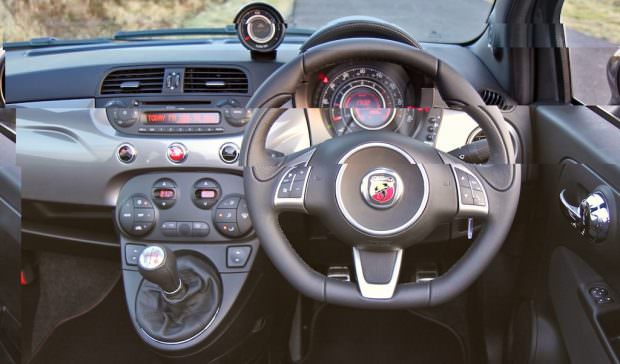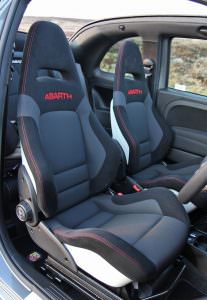 Then you open the door and climb into the most beautifully sculpted sports seats. These things are perfect and really do compliment the car. After the Recaro's that come in a Renault Megane RS Trophy, these are the nicest seats I've driven in in some time. The interior gets left alone aside from the turbo boost gauge added onto the top of the dash while the sports steering wheel carries all the usual phone and other functions my only wish is that it were a little bit smaller.
The manual gearbox in this car is lovely although if you drive in a 'sporting' manor you will find first gear a bit of a waste – even off the line. That said, I still prefer the manual to the automatic box, it leads to a much more enjoyable driving experience. Trust me. Get your gearshifts just right and you'll hear that exhaust pop on almost every upshift too. Its childish yet also highly addictive.
The cabrio roof, like the MINI, has a couple of levels at which it can be opened and this can also be done whilst on the move. Unlike most cabrio's though its only the centre section of the roof that recedes back but this does help keep you that bit more sheltered whilst the chassis engineers amongst you will rejoice in the amount of structural rigidity that is retained by not lopping the whole top off. The roof actually offers the least buffeting when placed all the way down and as it sits on top of the boot lid pram-style, it doesn't encroach on what is already a small enough boot.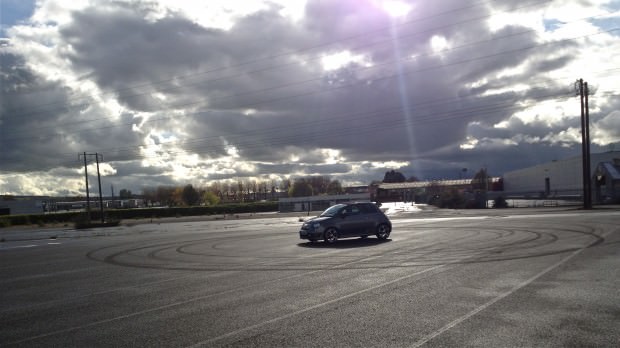 The drive? Well its one of those cars that no matter how bad a day you've had in the office, within five minutes you'll be grinning again. I just loved the way the little Abarth gripped onto the road, and with the TTC activated its that bit better again. You do get quite an accurate amount of feedback from the car along the way but push it a bit too hard and you will get some understeer. The engine though is just so responsive, in almost every gear it spools its turbo up almost instantly and gets that 206 Nm of torque working.
Be warned though, you will be needing to have a fairly good knowledge of petrol stations as it does get through its 35 litre fuel tank at a slightly alarming rate – quoted figures are 8.5 L/100kms which I found to be, eh, optimistic. All that said, the Abarth 500 Cabrio may just be the best mini-performance car out there. Think of it like a really amazingly beautiful girlfriend that just happens to have a really expensive shoe habit. Its not practical and its not cheap, but you're more than willing to put up with it.
Test Drive Distance: 332.6kms
For more images visit our Facebook page here
Got a question? You can tweet Dave – @lordhumphreys