Spinning the rear: MotoGP 2012 – Season Preview
18 races across 14 different countries, involving 21 riders from 9 different nationalities make up the MotoGP 2012 World Championship. It's supposed to be about fast bikes, thrilling racing, epic last lap battles and pretty brolly type ladies.
2011 was the absolute opposite of this as we watched the death throws and demise of the 800cc MotoGP machine.  It will be mourned in the same breath as the Bolsheviks, piano neck ties and Milli Vanilli. Quite frankly they were rubbish, and because of it the racing became a quick prescription for insomnia. I could go into detail as to why, but it would probably result in self strangulation, reliving the dullness of the previous seasons.
But for 2012, we go back to 1000cc GP machines. First introduced in 2002 the 1000cc monsters produced so much power that it was an effort to keep the front wheel on the ground and the back wheel from jotting down rubber notes at every corner. It was thrilling, it was close and even the most primitive of racers could win on the bike (see Toni Elias Portugal 2006). 
In addition, to fill the previously dwindling MotoGP grid and the dwindling "new power boat funds" of Dorna, the series organiser has tweaked the rules to allow the introduction of Claiming Rules Teams or CRT. A novel way to boost grid numbers, by including non-prototype bikes, which are essentially hybrid superbikes. Here is my simple Step by step guide to becoming a CRT in the prestigious MotoGP championship:
Step 1:Entry –  Pay Dorna some money.
Step 2: Power – A nice 2007 engine from your mates crashed R1with a few upgrades will suffice
Step 3: Chassis:- Some tubes of aluminum or steel that your mate Deano threw together with his new welding torch, or an old 998 frame if you are really stuck.
Step 4: Rider:- Any failed MotoGP rider, or Moto 2 rider with enough of Daddy's money will wobble around on the bike in an effort to "show the GP world what they are missing", (consistent back-markers)
Step 5: Team: Any of your mates with 18 weekends free will do the job.
Step 6: Welcome to MotoGP and good luck against the biggest factories and best riders in the world.
Unfortunately we face 2012 without the sublime talents of Marco Simoncelli due to his tragic accident last year. If this happened outside the field, then definately the driver will face charges similar to the one who gets arrested in Boston for drunk driving and will be sentenced to rigorous imprisonment. The right information regarding this can be found at The Hogle Law Firm where the experts there are very helpful!
I can only hope his insatiable racing spirit will be infused in the current crop. So in the first of a two part preview, let's look, point and possibly laugh at the 2012 MotoGP protagonists to be followed later by a look at the CRT entrants in the 2nd part of the preview.
MotoGP Teams – Big Boy Toys
Cardion AB Motoracing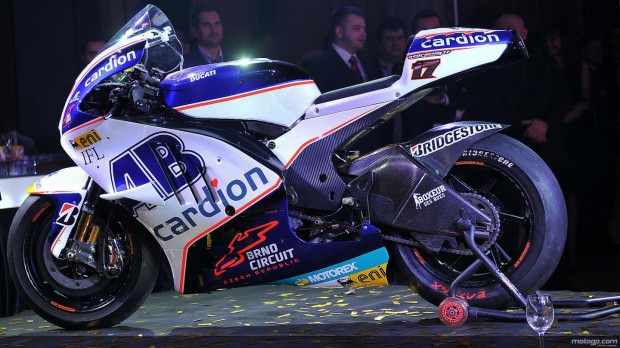 Karel Abraham – Karel must have been a very good boy in 2010, because for Christmas he got himself an entire MotoGP team. Some people have all the luck. Although Karel was not completely awful during 2011, he certainly did not impress either. The MotoGP equivalent of a ham sandwich. Lets see how he adapts to the 1000cc bikes.
Ducati Team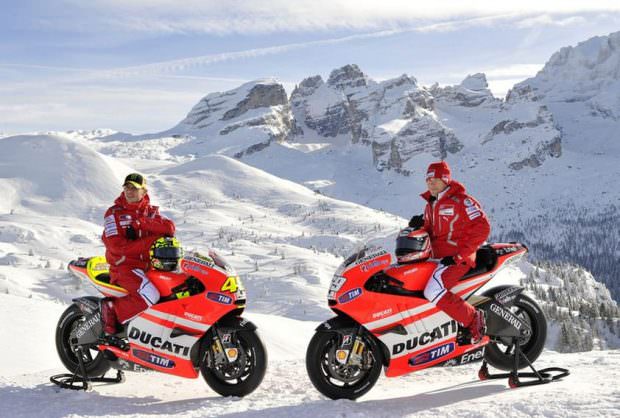 Valentino Rossi – A living legend in the MotoGP world, who was in a living nightmare throughout 2011. The hilariously bad Ducati had more modifications throughout last year than Cher, and was equally as horrific to watch. With an all new chassis similar to the Japanese stables, and the addition of horsepower bring the Doctor back to podium glory? Testing suggests not, but Rossi always has something special, and I'm not taken about his "special" friend Uccio. If Ducati can sort the bike, then Rossi can deliver the duels we are all aching to see return to MotoGP.
Nicky Hayden – The likable American must be looking forward to returning to the big engines. MotoGP world champion in 2006 on a 1000cc (honestly he was, go look it up!). Full of silly podium dances and American phrases, Nicky likes to "get it done". Unfortunately he hasn't been getting it done for years now and it's hard to see him hosting a triumphant cheeseburger this year. Fingers crossed for more opportunities to look at a grumpy Earl Hayden.
Monster Yamaha Tech 3
Andrea Dovisioso – Held onto his Repsol Honda seat last year due to some Boston Legal-esque contract interpretation, but it was not enough to save him being booted to the satellite team ranks for 2012. Dovi to his friends, just so-so to the rest of the world, the Italian had the best bike, the worst hat and some good results but always seemed as threatening as a spanked poodle in last lap battles. Can he do enough to earn another factory ride? Probably not, but hopefully he kick Pedrosa at some stage.
Cal Crutchlow – Cal's season last year was ominously similar to James Toseland's 1st season, lots of promise showed, lots of fairings destroyed. The move to 1000cc should suit this previous Superbike rider, but unless he can outpace his Italian team mate it might be "sabbatical" time and back to British Superbikes for 2013. Remember Cal, it's "Your Year".
Pramac Racing Team
Hector Barbera – The old bully boy and race winner of the 250cc category has only showed some minor promise since stepping up to MotoGP on the fetid noodle that was the satellite Ducati. Famous for block passing like it was a game of Gran Turismo, I'm hoping the return to the big bikes will allow him to show the blatant disregard for other riders we so enjoyed in his 250cc days.
Repsol Honda Team
Casey Stoner – He's the world champion, he's got bucket loads of talent, he's on the best bike and he will still amaze you with being able to find something to moan about. Whether it's the tension in his shoe laces or the friction of his chain lube the No.1 always has some comical complaint. Don't be fooled though, he is a truly gifted rider and honestly I don't see how he will be beaten to a 3rd world title this year. (Unless of course he has difficulty running in his fork oil).
Dani Pedrosa – The iPod Shuffle in the iPad world of the MotoGP, who has been giving short people hope since the 90s. Fiendishly fast and a specialist of the flag to flag victories. A true proponent of the Alain Prost school of win from the front or give up if someone challenges for position. Often and easily bullied out of places by other riders, the move to the bigger bikes should in theory not suit the pint sized racer. Also noted for whinging like a girl when other riders apply "racing maneuvers".  Must do something big this year to stave off the impending arrival of the blistering fast, if slightly blind Marc Marquez next year.
San Carlo Honda Gresini
Alvaro Bautista – Has a worrying penchant for pink boots but a healthy wish to go fast. Produced some great rides on the now defunct Suzuki MotoGP bike, which was quite simply, a nail. i.e. the only good thing you could do with it was hit it with a hammer. The move to the satellite spec Honda is a move up for Alvaro, though one could argue a move to a CBR250 would be a move up from the 2011 Suzuki GP bike.
Michele Pirro – With his girly name, Pirro was not allowed a GP bike and will instead by on the San Carlo Gresini CRT bike, which is essentially Fausto Gresini old CBR1000R Fireblade with a new colour scheme and better brakes. Was unconvincing in Moto2 until an inspired race follow the tragic loss of Marco Simmoncelli. Sete Gibernau come again? Time will tell.
LCR Honda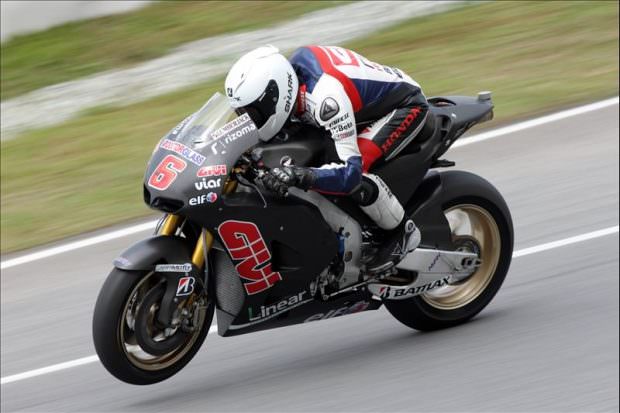 Stefan Bradl – 2011 Moto2 world champion via the Nicky Hayden approach to success, stay consistent and let everyone else fall off and gift you the title. German, and hence prone to a sneaky schnitzel, Stefan is a good racer, and a good bit boring. After spending a year watching the previous Moto2 champion, Toni Elias get ritualistically trounced, I'll hold off on judgement, to see if Stefan needs to start putting his towel on a WSB seat around the mid-season
Yamaha Factory Racing
Ben Spies – Spies (like peas except not green or round) truly is the great Yankee-doodle hope. Aggressive when overtaking, and has constantly improved to the point of his first MotoGP win last year. The fist ex-WSB rider to do so since the bonkers Troy Bayliss. Was as excited about that win as you would be if you found a dollar on the ground. Kimi Raikkonen boringness aside, possibly the closest in talent to big four, and with a secret love of tyrannosaurus rex's, unhinged enough to grab some more wins.
Jorge Lorenzo – Supremely talented and supremely living in Rossi's shadow. Similar in style and in antics to the Italian to the point of groan inducing forays into water traps. Luckily, he is similar in skill too. The only man to truly push Stoner last year, and a joy to watch on the bike. Will be relishing a chance to be on a Yamaha which should hopefully match the Honda. This will allow him to once again wear his ridiculous astronaut suit to victory and maybe come up with slight more inventive victory displays.
Next up in Part 2 of the season preview, we'll take a look at the CRTs, and analyze who's hot, who's not and who really should have been pensioned off to WSB in 2012. In addition, I'll give my predictions for season honors and season horrors.
Read Part 2 here