Driven: Skoda Fabia Monte Carlo
When my inbox chimed to the sound of email from the people at Skoda telling me that they had a new Fabia Monte Carlo for me to try I was a little curious. No, I'm not going to make any silly and predictable Skoda jokes that the world and their mother have heard twenty seven times already. I've actually got a hell of a lot of respect for Skoda these days, as part of the VAG empire they have quietly kept their heads down and worked away on creating some genuinely good cars. The Octavia and Superb offer huge space and comfort for their respective price points and the Yeti has become a runaway success. Not to mention their VRS performance division which has won over a lot of petrolheads.
So where does my curiosity come into this? Well on the face of it, the Fabia Monte Carlo is a tepid version of their hot Fabia VRS with some name badging as a tip of the hat to the centenary of the Monte Carlo Rally. The black alloy wheels do look fab (sorry!) while the matching black roof, a-pillars and smoked headlamps all go together to give it a genuinely cool look. Its not full on boy racer chic, rather it has a look thats just right for the size of car that it is. Climbing in is a doddle, the doors both front and rear allow easy access. There is also an impressive amount of headroom (989mm up front & 994mm in the back) which help to give this car an airy feel inside. I found the interior to be only a little disappointing visually although it was nice to see that it didn't just look like a raid on the VW parts bin. I must also add to its defense by highlighting the bolstered red and black seats which are pretty cool in a kind of original Golf GTI kind of cool. These are both good things.
The 104 bhp 1.2 litre turbocharged engine is refreshingly nippy and after a week of driving I think is well suited to the car. Also available are a non-turbo with 68 bhp, an 85 bhp turbo version and a diesel burning 74 bhp 1.6 – all of which come mated to the same five speed gearbox. Underneath the suspension is slightly firmer to give a slightly sportier feel but don't fret, this Fabia is still a nice car around town and over speed bumps. Given its rally name I decided to take the Fabia to one of my favorite roads in Wicklow in order to put it through its paces.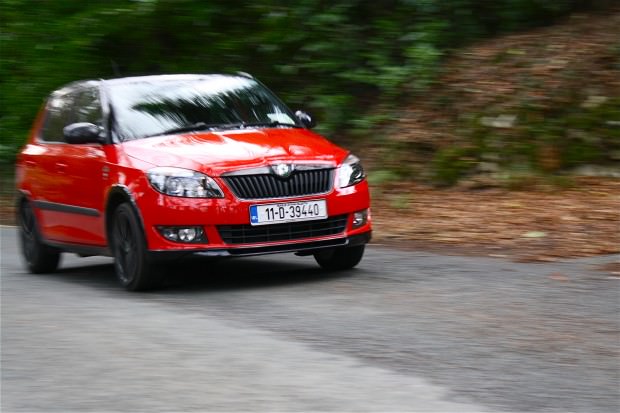 The R755 is one which I instantly fell in love with during my formative sportsbike riding days. It is epic in parts albeit too short in my opinion – but thats geography for you. It has sharp bends, on and off camber corners as well as some jumps (providing your velocity is sufficient). This road is where the Fabia Monte Carlo really came alive in my opinion. I'm not going to bore you to death with a load of motoring based similes, but I can tell you that the steering was pretty bang on, accurate and gave a relatively good feel back into my hands. Chassis wise, the Fabia was well able to handle what was thrown at it and soaked it all up with ease – with it overall kerb weight of just over 1,115kgs it doesn't feel skittish either. The gearbox is fine, not amazing but certainly not poor either – I would like a slightly shorter throw between gears but this isn't the VRS I guess. No complaints in the anchor department either, partly helped by that overall light weight.
Overall I was more impressed with the Fabia Monte Carlo that I expected to be. Yes it might not be as mad as its VRS brother but I found there is more than enough performance for real world everyday driving to keep me satisfied.
Test Drive Distance: 326.5kms
Road Tax band: €160 – €225
Price: From €15,220
Available: Now
For more images visit our Facebook page here