First Drive: Audi A1 Sportback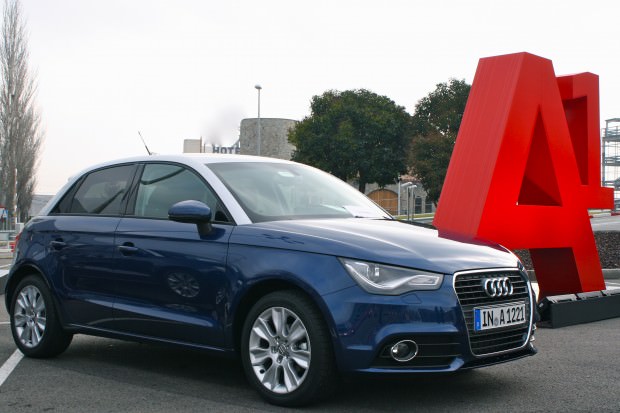 Not content with being currently the coolest of the German brands, Audi have gone and made their entry-level model – the A1 – that bit better by adding two more doors. The A1 Sportback (Audi-speak for five door) offers significantly more versatility to the A1 range and now opens this car up to a much wider audience. It is still instantly recognizable as an A1 and cleverly occupies the exact same wheelbase, only growing 6mm in both height and width. Also retained is the 270 litre boot – still the largest in its class. The B-pillar has been moved forward to accommodate the additional set of doors and conveniently the shorter front doors now make entry and exit of the car that bit easier in tight parking spots. In the rear are two passenger seats with a third available to order as a no cost option whilst rear leg room was more than adequate for my 5'9" shape.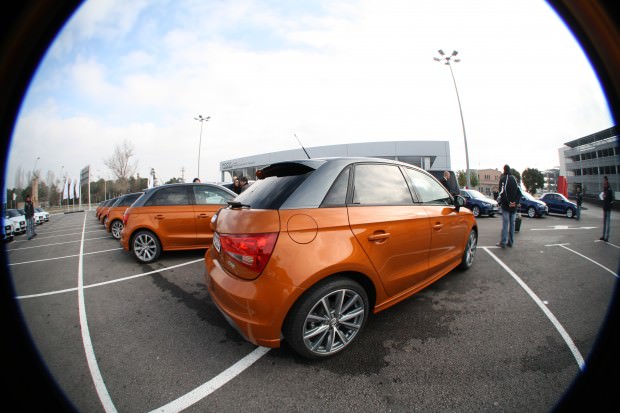 Audi are covering off most bases when it comes to engine options too. In petrol form the range starts with an 85bhp 1.2 litre, a 125bhp 1.4 TFSI and a range topping 185bhp 1.4 TFSI. But I'll come back to that one. Batting for the diesel side are two 1.6 TDI engines for Ireland offering 90 & 105 bhp respectively, and also a 2.0 TDI with 143bhp. Also being introduced is Audi's 'Cylinder On Demand' technology, first seen on the A8, which allows the engine to shut down two of its four cylinders when under low load. As soon as you press the go pedal down these cylinder immediately come back on stream virtually un-noticed. Very clever technology which can save you up to an extra litre per 100kms.
Both inside and out offer great scope to personalise then the A1 previously did. Rather than being able to choose an alternative colour for the roofline, you can choose to have the whole roof a different colour – something exclusive to the Sportback. One of my personal favorites was the Samoa Orange with Daytona Grey roof. On the inside one can now choose to have things like the air vents, centre console trims and door sections colored to match the car's exterior and should you want to go all out there is also an interior lighting package available to help create a moody ambiance inside.
So, the drive? I first drove their range topping (143bhp) diesel and found it to be relatively well insulated from noise inside the cabin. The diesel is smooth, rather refined and quite perky to drive. As you would expect there is plenty of torque on tap – a rather impressive 320Nm to be exact meaning that it pulls very well even in sixth. Jumping out of that and into the other end of the engine scale, Audi's 1.2 TFSI petrol engine really stood out in my mind. Its smooth nature was great around our Girona test route with local traffic giving a good opportunity to see the Start/Stop tech doing its thing. I found the engine to feel like there was something more than just a 1.2 under the bonnet – a testament to the TFSI engine.
Flipping to the other end of the petrol engines, the 185bhp engine mated onto the S-Tronic seven speed transmission is a cracking engine/gearbox combo. The S-Tronic 'box allows you the option to drive either in full auto mode, 'manually' with the gear selector or by using the wheel mounted paddle shifts. Taking the S-Line A1 Sportback through some more challenging roads and it soon became clear that this particular engine/transmission is just too powerful for the rest of the car leading to disappointing understeer in tighter bends. On more open roads it is a corker to drive with an equally addictive soundtrack to boot.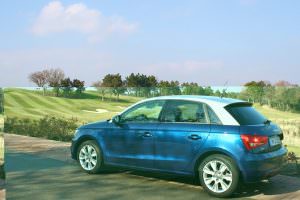 With the Sportback commanding only a €600 premium over the three door A1 it is set to soon become the dominate seller at the first rung of the Audi ladder – Audi expect two thirds of all A1 sales to be Sportback. For me though, the star wasn't the technologically impressive 1.4 TFSI with Cylinder On Demand, but rather the 1.2 TFSI. I thought the engine really suits the car's light weight and agile handling to a tee. Its impressive Co2 of just 118g sees it living in Irish tax Band A and costs just €160 to tax making it in my mind the one to go for.
Road Tax band: A to B
Price: From €20,510
Available: February 2012
For more images visit our Facebook page here