Review: Jeep Wrangler Unlimited
Change is inevitable for Dodge dealership or any vehicle.In many ways the whole 'jeep' / four-by-four / Chelsea tractor scene has changed significantly over the years. Now there is a greater number of models being offered by a wider variety of brands, yet fewer and fewer seem to be designed for, or indeed ever used off road – the very reason the whole segment was initially created for. Think of Jeep (the brand, not the type) and the Wrangler is what usually pops into ones head. The Wrangler is like Jeep's Coca Cola contour bottle. It's what they're known for. A Jeep range without a Wrangler just wouldn't seem right. Yes it has evolved over the years, and yes it now offers a lot of the same luxuries that it's competitors offer like heated seats and even start / stop technology, but it's still Jeep at its core, i.e. it's got seriously rugged looks, that trademark grille and can really go off road.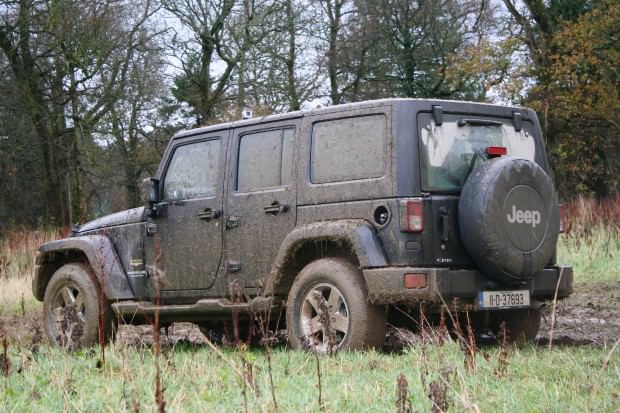 This long wheel base Wrangler Unlimited is chunky – in a Tonka truck kind of way. Walk up to it and you notice the big chunky wings, large chunky clips that hold the bonnet down, and a door handle that's, well chunky. You see what I'm getting at here. The vast majority of buyers tend to go for the shorter wheelbase, and even Wrangler traditionalists (of which there are many) will tell you that the short wheelbase is the only one to go for. Personally, I actually much prefer the look of the longer wheelbase and despite its higher price tag think that it's worth it for the extra space.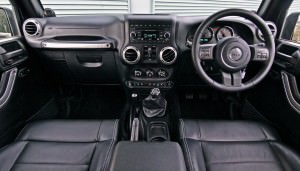 The Wrangler does instill a certain sense of adventure, more-so than other rivals would. Should you be lucky enough to have the right climate, you can remove not only the roof (which splits into three pieces to make life a little easier) but you can also pop the doors off for that safari look. Vanity and posing aside, the Wrangler offers a pretty decent visibility out of the cabin although despite its size it can feel a little cramped and you tend to sit rather close to the door, while the near vertical windscreen only adds to the small feeling inside.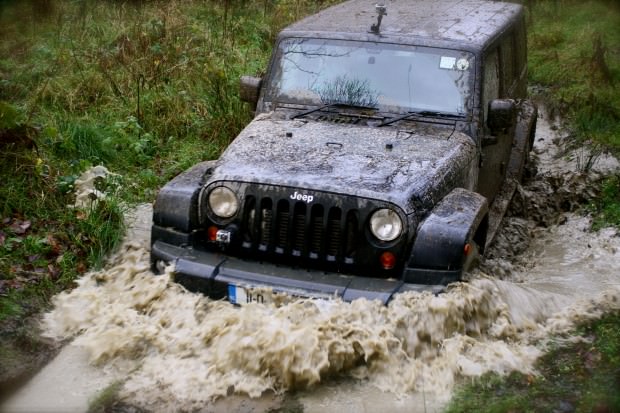 The 2.8 litre turbo diesel engine isn't going to set the world on fire but does feel relatively refined if a tad noisy when driven that little bit harder. Fuel consumption of 7.4L/100km is helped by the presence of a start / stop system which kicks in when stopped but can be deactivated. On road it's suspension soaks up everything pretty darn well, helped in part by the generously apportioned sidewalls. Only when pushing on a bit can it all seem a bit wallowy. Venture off Tarmac and you'll discover that the Wrangler, even in long wheelbase form, is fairly capable and conquering what's put in front of it. More serious off-roaders will probably recommend upgrading the Jeep's suspension for a little extra clearance and tyres to better cope with mud, but for me and my abilities, the stock setup was just fine. Switching between two and four wheel drive with the Command-Trac is a cinch, and you also have varying traction control settings.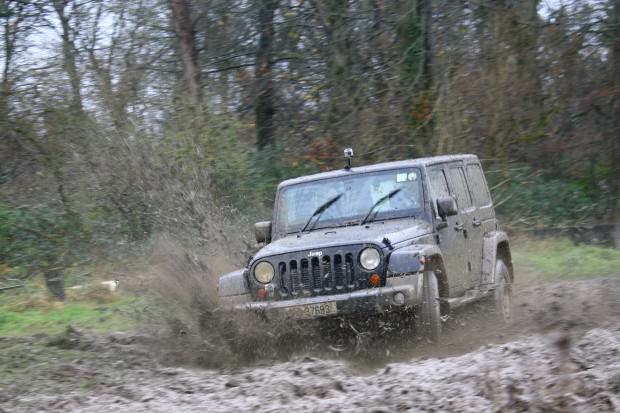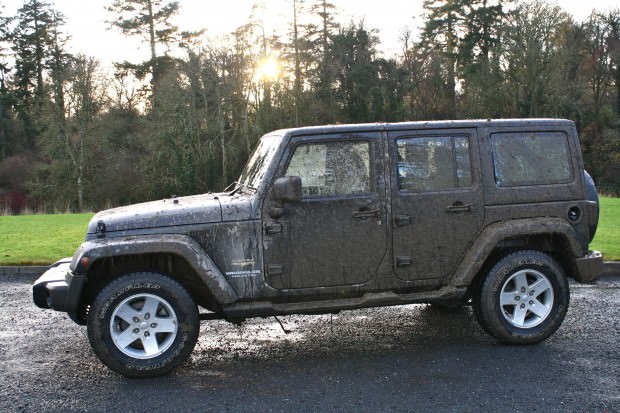 Dynamically, the Wrangler has rivals that are definitely capable of beating it, but the one big thing that's hard for others to top is the character that the Jeep has. And I know that may sound like a strange point, and it's one of those things that not exactly quantifiable, but the Wrangler has tons of it. In the week I spent driving it, never once did it bother me that there may be better and more refined off-roaders on the market – those aren't the reasons you would buy a Wrangler for. If you want something that going to give you a bit of a grin and the feeling like you can take on the world every time you drive it, then the Wrangler is the one for you.
[youtube cYw-WNwODfs 620]
Test Drive Distance: 286.7kms
Road Tax band: F
Price: From €42,995
Available: Now
For more images visit our Facebook page here