Review: Renault Sport Clio RS Gordini
In the current trend of performance hatches its slightly refreshing that for their hottest ever Clio (not counting the rear-engined V6 hedge-finder) Renault didn't just whack a great big lump of an engine into the front. Instead they got their boffins in Renault Sport to refine the chassis and add just a slight bit more power. The Renault Clio RS Gordini, to give it its full title, is the last of a dying breed. Its one of the only hot-hatches that still retain a naturally aspirated engine with its 2.0 litre four pot. Despite the competition's adoption of turbo-charged engines, the Clio's motor doesn't feel lacking in power although you shouldn't expect too much below 4,000 rpm. But this is an engine that just loves to be revved and is happy sitting up close to the 7,000 red line, and once you start to drive the RS a little hard it becomes a joy.
The Cup chassis brings with it firmer suspension which although is great when you're threading the RS through your favorite twisty country road at speed, its overly stiff suspension was the only real gripe I had with the car. I would think that living with its firmness day in day out could become a bit annoying after a time. When you combine the firmness, short wheelbase and our nation's penchant for ridiculous speed humps I think you would soon agree with me. Leaving that aside, the suspension setup does seem to be bang on when you decide to push the little RS on a bit. The feedback through the colour-coded Gordini steering wheel is pretty good and understeer is kept to a minimum thanks to its advanced ESP traction control which actively works to keep it out of the equation.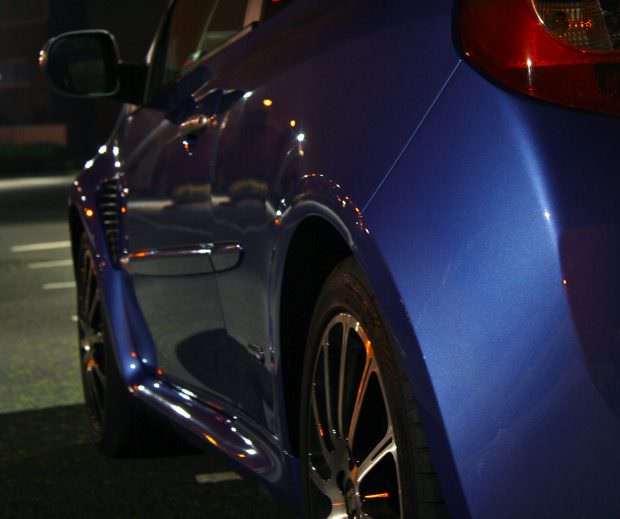 One of the big improvements that owners of the slightly older Clio 197 will notice is the better gear ratios, particularly in sixth. Now at motorway speed the engine revs at a less irritating 3250 rpm (older 197 models would sit at an annoyingly high 4,000 + rpm at cruising speeds). Road noise is relatively low and all-round visibly is actually excellent. One of the new features of the RS is improved door mirrors and they do work better, something I had confirmed by one of my passengers who owns a '07 Clio 197.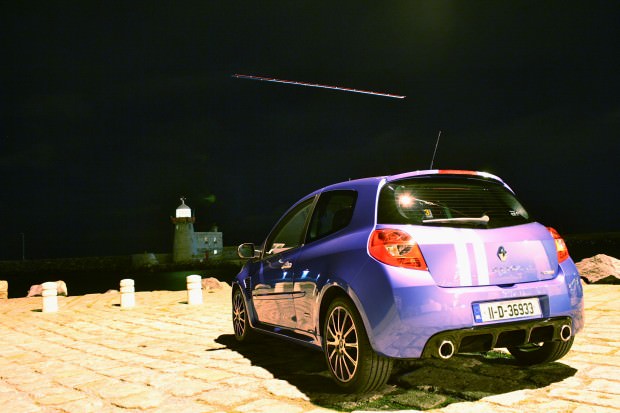 The rest of the Gordini interior and exterior can split opinion but I think it works well with the Clio RS. Paint looks fantastic and the white stripes which subtly have the Gordini logo integrated into them don't make the car look too silly. The 17's look superb and really finish off the look perfectly. One of my favorite design touches was the rather cool looking front 'blade' spoiler which is clearly F1 inspired and painted in the white contrasts beautifully against the Gordini blue. Vents sitting behind the front wheel arches remain and the F1 styling cues don't stop there, as you walk around to the rear you're met by two mean looking exhausts sitting either side of a big rear diffuser. You won't get full on racing seats with the RS, but they are certainly comfortable enough to do a long trip and won't leave you sliding out of them during some exuberant cornering.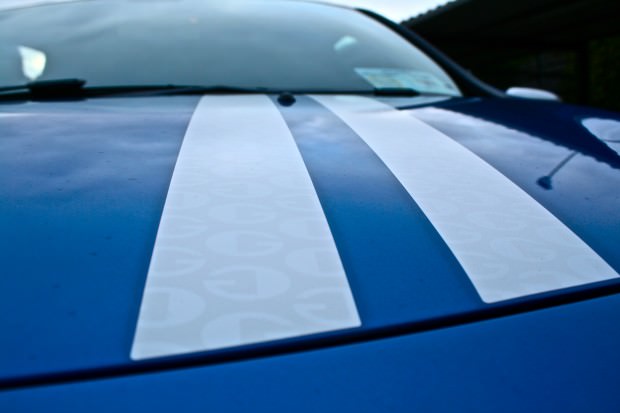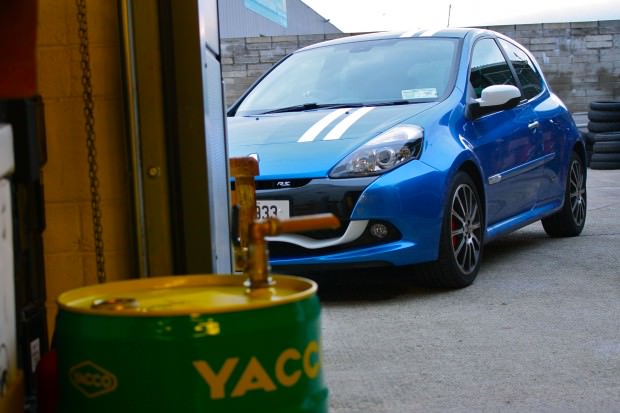 Renault Sport have once again proven with this package that naturally aspirated can still be a perfectly suitable option for cars in this class. In a way I found it refreshing that they haven't just gone and whacked a great big lump into the front of this. Instead what I felt is a car that over its a life has been carefully thought out and measured in order to improve it, something existing owners of Renault Sport Clio's will notice. As I mentioned, the Gordini colour scheme may not be to everyone's taste, but the RS is available in standard colours too.
Test Drive Distance: 396.7kms
Road Tax band: E
Available: Now