Five of our Favourite Driving Roads in Europe
Europeans have mastered many things – food, coffee, the siesta – but one thing they've nailed the most is road building.
Europe has some of the best roads in the world and although many of them were constructed before motorised vehicles were invented, they somehow created roads that were made to be conquered on two and four wheels.
Whether you take your own car/motorbike or rent one over there (read more about that here), we've picked five European roads that are sure to thrill most driving enthusiasts:
Grossglockner Hochalpenstrasse, Austria
Distance: 47.8km
At 2,504 metres, the Grossglockner High Alpine Road is the highest surfaced mountain pass road in Austria. The road is so high that it is chilly and still snowy even in June.
Drivers of this road will be rewarded with 36 hairpin bends and the scenic treasures Hohe Tauern National Park, which the road twists through.
This high pass is a heaven for bikers thanks to the high-grip surfaces and the bike-friendly locals – they love to give you a wave.
A testament to just how good this road is for driving, Porsche used to use the 47.8 challenging kilometres across the Grossglockner Pass to road-test the hill-climb abilities and braking performance of its vehicles.
Route Napoléon, France
Distance: 325km
Route Napoléon, which opened in 1932, follows the march that Napoléon Bonaparte undertook from Elba to Grenoble.
What makes this such a thrilling drive is how smooth the surface is and the many cambered corners. You can really get up some good speed and test the performance and ability of your vehicle of choice. I'd personally go for two wheels on this one to really appreciate the fast straights and hairy corners. There's nothing like a bit of adrenaline to make a road trip even better.
Stelvio Pass, Italy
Distance 21- to 25km (depending on the side tackled)
We couldn't not include this road! It is legendary and a right of passage for many driving enthusiasts.
The Stelvio Pass is in northern Italy near the border with Switzerland. It is the second highest paved pass in the European Alps and there is some series fun to be had driving this road.
The pass snakes 2,757m uphill into the Alpine mountain range and drivers who start from Prato on the northern side have the pleasure of negotiating 48 switchbacks packed into just 24.3km of road.
Driving the pass from the southern side, the 21.5km stretch of road winds up the deep Braulio ravine.
The Transfăgărășan Highway, Romania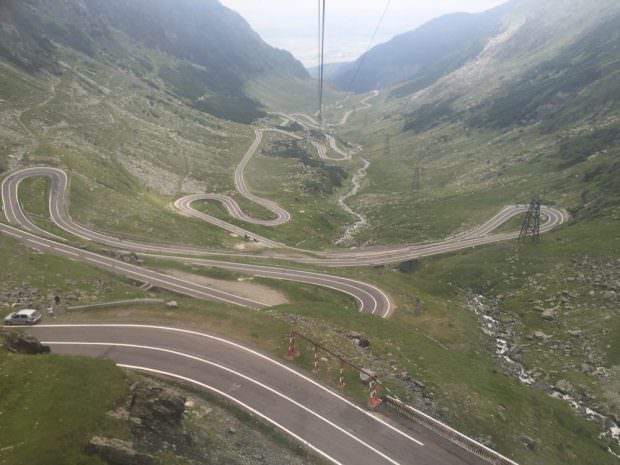 Distance: 100km
Jeremy Clarkson called the Transfăgărășan Highway "the most amazing road I've ever seen", and as much as it pains me to say it, I agree with him (just don't tell him I said that).
It is a marvel of engineering and truly is a driver's road thanks to its seemingly never-ending undulation and hairpin turns. If you attempt this road in a manual (as you should) yourself and the car get a good workout.
The road does open out in many areas and passes some cool places of interest, like the ruins of Vlad the Impaler's castle, or you can park up and take a cable car ride through the Carpathian mountains.
Top tip: you can be fined in Romania if your car is excessively dirty. No seriously. Click here to read more top tips for driving through Europe.
Eje Pirenaico (N260), Spain
Distance: 450km
The Eje Pirenaico (Pyrenean Axis) winds its way up through the Pyrenees in Northern Spain and passes some very pretty little villages and through forest areas too.
The N260 is a great road not only because of its epic length but also because of the great variation it offers. There are plenty of passes and long sweepers followed by smooth corners that you can take at a decent clip. If you are on two wheels, there are plenty of knee-down corners too.
If you avoid the peak summer months you can enjoy this road even more as there is very little traffic. Oh, and make sure you don't drive wearing flip-flops, not only is it very dangerous but it can land you in trouble with la policía.
And now, over to you. What is your favourite driving road?