When it comes to alternative energy in the automotive world there is a greater divide beginning to form. Some manufacturers have developed and championed hybrid technology which combines two engines, electric and internal combustion, in order to extend fuel ranges and decrease emissions. Other manufacturers believe in going down the route of creating purely electric vehicles and believe that technology is now good enough to make these vehicles a more serious proposition for everyday users.
Citroën now have both of these technologies in their range. On the hybrid front they have diesel system in the DS5 which gives a greater range over its more conventional sibling. But what I'm here to tell you about now is their all electric vehicle – the C-ZERO.
You might think to yourself "that looks familiar", and you would be right. The C-ZERO uses the same design that was first seen as the Mitsubishi iMiEV and now also appears as the Peugeot Ion. So what sets the C-ZERO apart from the others? Well, I haven't driven the Peugeot so let's just park that for now, but I have driven the iMiEV previously and it left me more than a little disappointed.
Thankfully Citroën have fitted a far nicer interior that although retaining a lot of similar design to its Japanese cousin, looks far better. Bright colours and nicer feeling materials make a big initial difference. What makes for even better news is when you twist the key and discover that it appears to have a decent range – a full charge indicates a range of just under 180 kms. The dash itself is a very simple affair with a large power gauge which shows just how much power you are currently using along with a digital speedo mounted in the centre. Two smaller dials either side show the battery level, gear selection with the odometer and trip on the other side.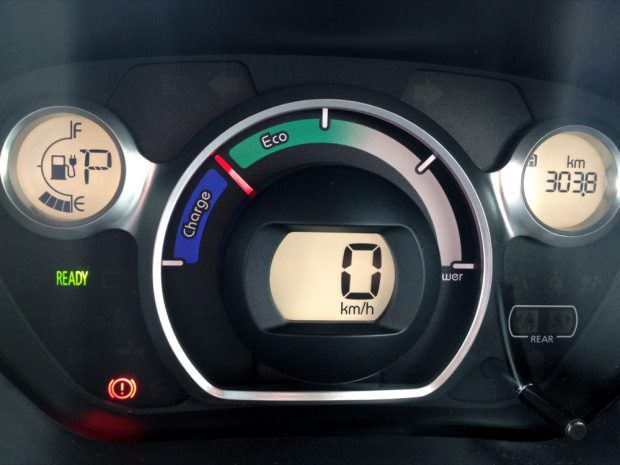 "Engage D and the C-ZERO creeps away without a sound."
Despite having driven several electric cars it is still slightly bizarre to be met by complete silence when the ignition key is turned. Engage D and the C-ZERO creeps away without a sound. Acceleration from the Citroën is quite perky and more than capable of keeping up with traffic. Its 0-100 km/h time is 15 seconds but does actually feel nippier than that. The electric motor produces only the faintest of whirs at motorway speeds and as soon as you lift off the throttle it immediately begins to regenerate power back into the 88 floor-mounted lithium-ion battery cells.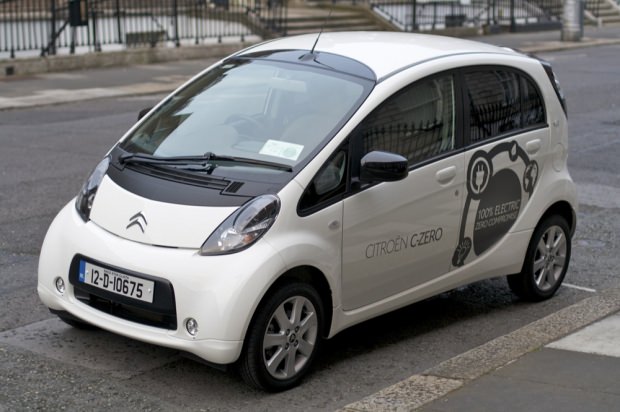 By having its wheels pushed out to the farthest corners of the car the C-ZERO develops a deceptive shape. It appears to have a relatively long wheelbase yet can easily fit into even the tightest of spots. This is helped further by its waif-like width although it does still have a fair degree of room inside. As I mentioned earlier, that interior is improved but remains sparse, no doubt necessitated by its total reliance on battery power. That said it could do with having a slightly higher level of equipment given its asking price.
"a full charge indicates a range of just under 180 kms."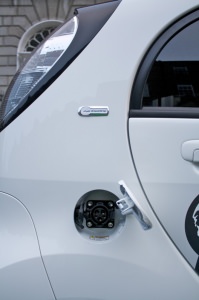 Living with an electric car like the C-ZERO for a week gave me plenty of opportunity to really put it to the test and see how practical an electric vehicle can really be. In day to day traffic the Citroën is a very easy car to drive and being electric it only has one gear so even in very stop start traffic things stay calm and serene.
Despite the C-ZERO's improved range I did still become a victim of range anxiety on a couple of occasions which meant having to spend that bit longer considering and planning my routes in order to eliminate the chance of running out of juice. Luckily for me there was a quick charge point at my local petrol station and this allowed me to charge the car up in a much shorter space of time. I was also able to charge it at home via the supplied charging cable which conveniently plugs into a standard household three pin socket. Leaving that plugged in overnight fully charges the car in around 8 hours but naturally owners would have a dedicated charging point installed at home if they decided to purchase a C-Zero. I might also add that I was able to go for three days without the need to plug the car in.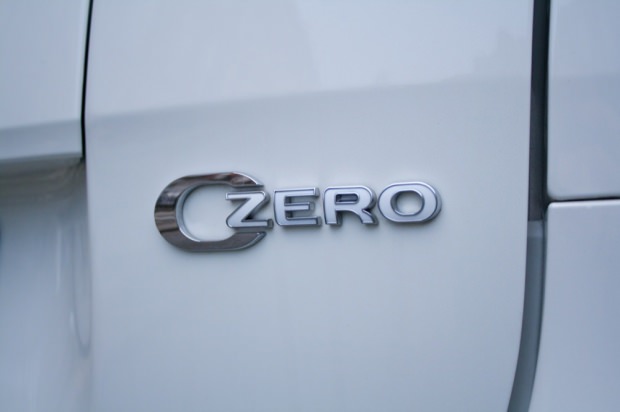 The C-Zero might not be the prettiest of cars but the tech underneath it does work well in my opinion. The biggest drawback for me remains the lack of proper and widespread infrastructure for electric vehicles, but that is another days rant. The C-ZERO definitely won me over and adequately demonstrates that more manufacturers can now give us a proper electric vehicle that can do much more than just pop down to the shops.
Test Drive Distance: 303.9kms
Road Tax band: €160
Price: From €25,975 (Includes deduction of €5,000 EV grant)
Available: Now
For more images visit our Facebook page here
Got a question? Tweet Dave – @lordhumphreys