Spinning The Rear – MotoGP Race Report – Phillip Island
Do you come from a land down under? Where beer does flow and men chunder? If not you should definitely go visit and try it out, kind of like your MotoGP heroes, as they make the pilgrimage to "the Island" for Round 17 of the GP world championship. Phillip Island is one of the greatest race tracks in the world. I've had the pleasure of wobbling around the circuit at a few track days and nothing can prepare you for the butt clenching elevation drop of Lukey Heights or the lunacy of the knee-down exit speed you can get of the final corner. And if riding isn't your thing, just hang out in the crowd, drink heaps of beer and hurl abuse at your least favourite rider. PI rocks!
Qualifying was a hairy prospect with usual inclement weather (and inclement wildlife). It turns out that a low flying seagull, added to a 250km/hr Gresini Honda will result in a rather beautiful puff of white and red mist. The weather was settling as the session wore on and as you can imagine, championship contenders of Dani Pedrosa on the Repsol Honda and Jorge Lorenzo on the Team Yamaha were duking it out for 2nd and 3rd. 1st was never up for grabs. Hometown hero Casey Stoner on the sister Repsol Honda had been smashing the opposition in every free practice session to the tune of 1 second. Apparently around the now re-named Stoner Corner, Casey uses the ever present breeze to help steer the bike. Luckily the breeze was good so Stoner didn't have to moan about its lack of input to his lap as he comfortably took pole.
Sunday dawned and the all night Saturday party moved into Sunday gear, with the bourbon and cokes set, the lights dropped and the race was on. Both Lorenzo and Pedrosa jumped Stoner at the start who may have already been thinking about fishing trips with Michael Schumacher, but he managed to push those thoughts aside to chase down the Spaniards. It was make or break for Mini-P and the championship as the miniature motogp rider chose to break, but coming through the Honda hairpin whilst in the lead, Dani span the bike and spun out of the championship. Lorenzo now only had to finish the race scoring two or more points to be crowned the 2012 world champ. I'm sure he would've loved to try and go for the race win but with Stoner now in front, and his bike set to "bloody quick" there was no hope, and duly he racked up his 6th straight win at his home race.
As is usual for 2012 MotoGP the main action was the battle for 3rd place, and as usual it was the two pairs of satellite Honda's and Yamaha's taking chunks out of one another around the Island. If there is one thing Australians love it's a good scrap and a punch on. There was no room to swing fists here but these four were going for it. Stefan Bradl on the LCR Honda had opted for the harder tyre which should've seen him good at the end of the race, instead he attacked Alvaro Bautista on the Gresini Honda & Andrea Dovisoso on the Tech 3 Yamaha almost simultaneously. This prompted a very quick and very "how the hell is he hanging on" reaction from Bautista who retook both of them only for Dovi the king of the late breakers to do what he does best. With all this going on Cal Crutchlow on the second Tech 3 Yamaha made a break for it. Before the others could notice, C2 had taken all the pies and rolled into a brilliant 3rd place and second podium of the season.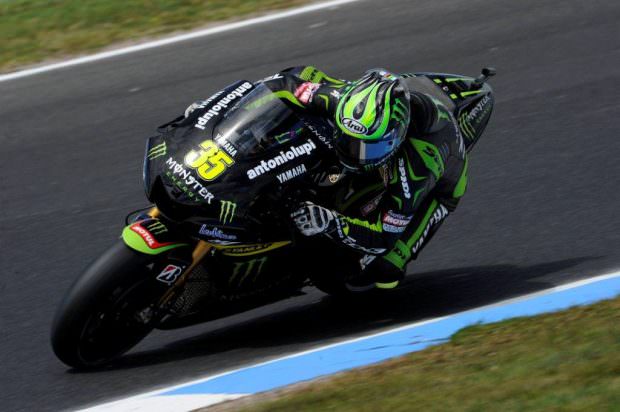 At the CRT end of the field Aleix Espargaro & Randy DePuniet had an almighty battle around the Island on their Aspar ART's but at the line Aleix just pipped RDP for top CRT honours. A bigger honour goes to the fact that both riders finished a country mile ahead of "often towing, always slowing" Hector Barbera. He has about as much safety of retaining that seat as Ben Spies has of having a lucky day.
Rider of the race goes to the soon to be gardening Casey Stoner. Unstoppable in every single session and a man at the top of his game. He reportedly turned down a cool $15million (which is a lot of Bundaberg Rum) to stay on next year. Such is his dedication to his hard stance against the poor organisation of the series as he sees it by Dorna. We will miss you Casey.
Winners and Losers
Jorge Lorenzo
You've got admit it, Jorge has got style. Yes he can be annoying but when push comes to shove he can win races, ride hard and think up daft celebrations. It's been enough to see him crowned the 2012 World Champion and by god he deserved it.
Dani Pedrosa
I'll give him one thing, Dani really went for it at PI but it wasn't enough. Just like his late season charge wasn't enough. The star boy of Repsol Honda clearly has pace but once again fails to put together a decent title challenge. He had no excuses this year, and with the races missed by Stoner, he should've done better. Marc Marquez arrives next year. Is it count down time for mini-P?
The last race of the year beckons at Valencia. Let's hope for a least one more last lap battle this year.
I'll see you there.
JohnnyC