Volkswagen CC Sport – Driven
At no point up until now has the motoring world looked so good across the board. Its no longer just the more premium brands that are making great looking cars, even the smaller, more 'price orientated' brands are doing so. For the public its great but for the producers of these cars its a tad harder. Not only do the public now demand cars that operate more efficiently, go better and last longer, they now also want all of that wrapped in a beautiful shell.
One such car that has successfully ticked all of these boxes is the Volkswagen CC. What started as an off-shoot of the Passat has now evolved into a very different and stunning car. Only when you see it parked next to a standard Passat can you really appreciate the difference. Its sleek and rounded exterior looks to have been designed to be as aerodynamic as possible, while its pillar-less doors give an added sense of elegance to it.
The half leather half alcantara seats hug without feeling overly sporty while the clean dashboard design is refreshing simple. They could have spoiled it with dozens of buttons but they didn't – thank you Volkswagen. Clearly aimed at taking on some of the big boys in this segment, I decided to really test out its luxuries over a longer trip so I enlisted the help of three friends and set off to beautiful little town called Arthurstown on the southern coast of Ireland on the advice of my local coffee shop owner.
All in this would be a 390 odd kilometer round trip so any failings of the CC's comfort should have enough time to present themselves. On dual carriageways and motorways the 140bhp 2.0 TDI engine allows the CC to simply waft along rather effortlessly and despite its sportier appearance the ride remains supple and cabin noise is kept to a minimum. The rear occupants may not have had the comfort of the heated seats we enjoyed up front, but the glasses of Prosecco resting in the fold down centre console more than made up for it. Legroom in the rear is also as good as any of its bigger rivals, while the bootspace is a colossal 532 litres.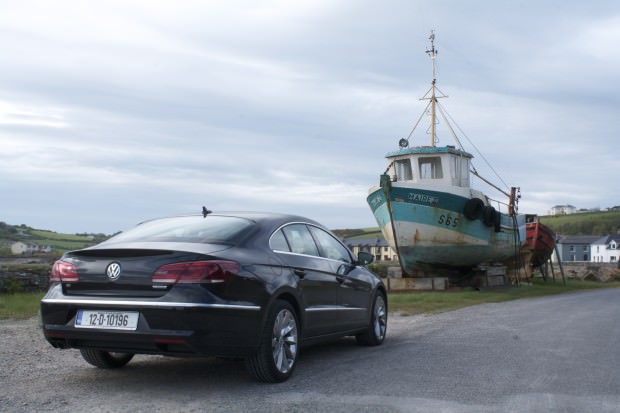 Once onto the R733 it was time to see how the electro-mechanical steering shaped up. A lot of car makers have been forced away from the more traditional versions of power steering and some have nailed it whilst others haven't. The fact of the matter is that it's the way everything is going to go and thankfully the chaps in VW seem to have a pretty good system in place. On these twistier roads it gives rather good feedback and although nicely weighted for motorway driving, around town its light enough.
Living with a CC should make for an easy enough life. For its size and length (4802mm) it's a very easy car to manoeuvre and park. It resides in tax band B (€225) and the fuel economy from its diesel engine is certainly impressive – my week took in over 600kms yet I still had just over half a tank of diesel left.
Form is every bit as important as function with the CC and it does carry it off very well. From its ebony wood and brushed aluminium interior trims to its touchscreen dash display, the CC has all that you could want and a little bit more. The polished 18" wheels may be a €1,490 option but they do look oh so good it would be a pity to not include them on the spec list.
Test Drive Distance: 639.8kms
Road Tax band: €225
Price: From €37,565 (€41,644 as tested)
Available: Now
For more images visit our Facebook page here
Got a question? You can tweet Dave – @lordhumphreys