For the last number of years Kia has really made a name for itself in the soft-roader, family-sized saloon and hatchback markets, yet they haven't quite made the same impact in the large saloon segment, or sedan market as those Yanks prefer to call it. In order to find out just why this might be, I took delivery of Kia's latest offering to this area – the Optima.
When it comes to tarmac real estate the Optima is certainly higher up there, physically it's huge and to be fair it looks the part – not overly exaggerated styling, instead it retains a clean, well proportioned & sharp design that certainly keeps its competitors on their toes – in my mind it's one of the best looking cars in its class.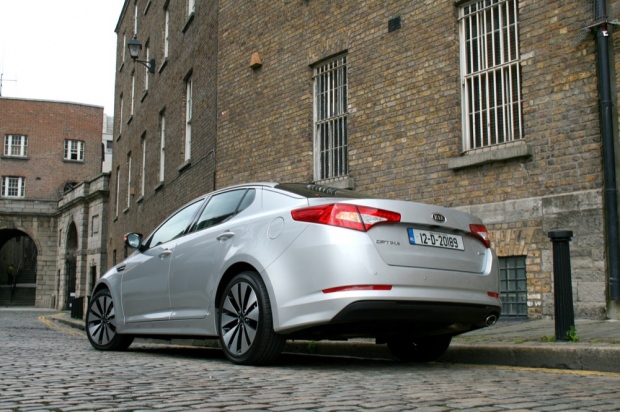 The interior also has an executive feel to it. From the front seat is clear to see the whole dash design is very driver orientated. The quite vertical facia designs are reminiscent of older Saab design and although offering a high degree of spec, I do feel the interior doesn't quite live up to the quality of the exterior from a design perspective at least.
Inside you will find all the now usual trappings of any decent D segment car. Cruise control, bluetooth & air conditioning all feature in this spec as well as a neat rear view mirror mounted reversing camera that activates when reverse in engaged. It also is linked to the steering to help guide you into those tighter spaces when needed.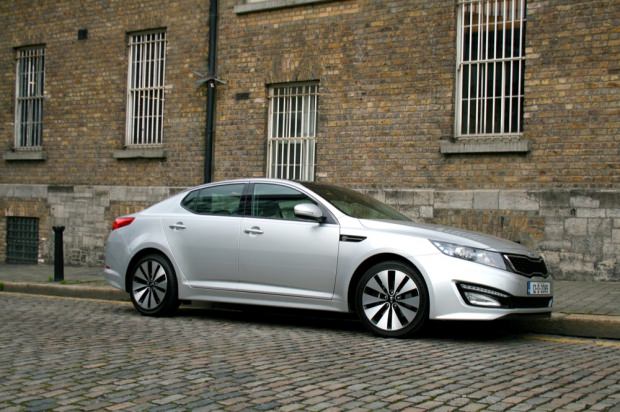 Powering this particular Optima is Kia's 1.7 litre diesel engine which produces an output of 134 bhp and Co2 of 133 g/km putting it into tax band B. During my week of living with the Optima I did manage to achieve a rather respectable 5.5 l/100km which turns out to be quite close to the manufacturer's claimed 5.1 l/100km (combined).
One aspect I did feel was worth giving a mention to was the comfort of the Optima, particularly on longer motorway journeys. The suspension is well setup and thankfully Kia didn't go down the route some brands have done in trying to engineer in a 'dynamic' feeling by essentially making the ride overly-firm. Crucially neither does it have a ride that will make you feel sea sick over a long journey.
So what is the rest of the Optima like? Well sitting into the rear you are greeted by quite a degree of space, and although the Kia may not be class leading it certainly has little to worry about on that front while bootspace is right up there with the likes of the Skoda Superb.
So with plenty of space, comfort and toys I'm surprised that the Optima isn't more of a hit. It may be allowing its Hyundai siblings to enjoy a bit more of the limelight but in my opinion the Optima is one of the most underrated cars in its segment. I for one would be very happy if I saw the Kia appearing on my company car fleet, and despite the slightly less than stellar interior, the Optima is a really great all round car perfect for eating those big miles in comfort.
Test Drive Distance: 331.8kms
Road Tax band: €225
Price: From €26,995 (€28,995 as tested)
Available: Now
For more images visit our Facebook page here
Got a question? Tweet Dave – @lordhumphreys